---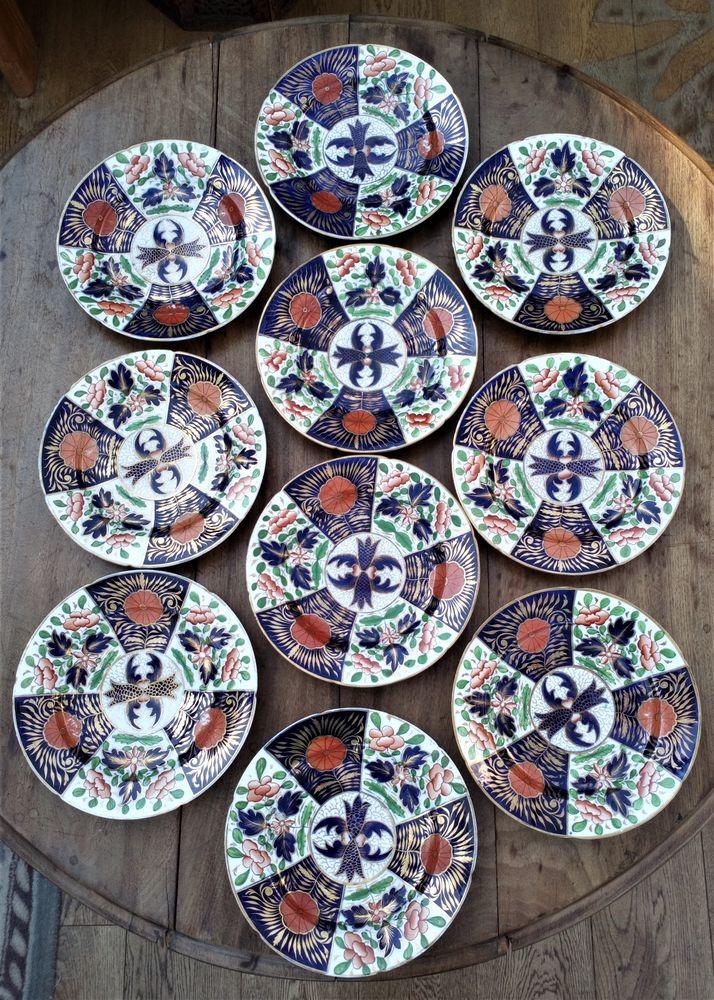 Usable, Decorative and Rare Set of Ten Coalport Imari Crab Claw Pattern Dinner Plates circa 1810
Monday 8th April 2019
A very rare set of ten, very attractive, usable, antique hybrid hard paste porcelain hand painted and gilded Imari crab claw pattern dinner plates very probably made by John Rose and Co of Coalport, Shropshire England. They date from the early 19th century around 1810 during the late Georgian or…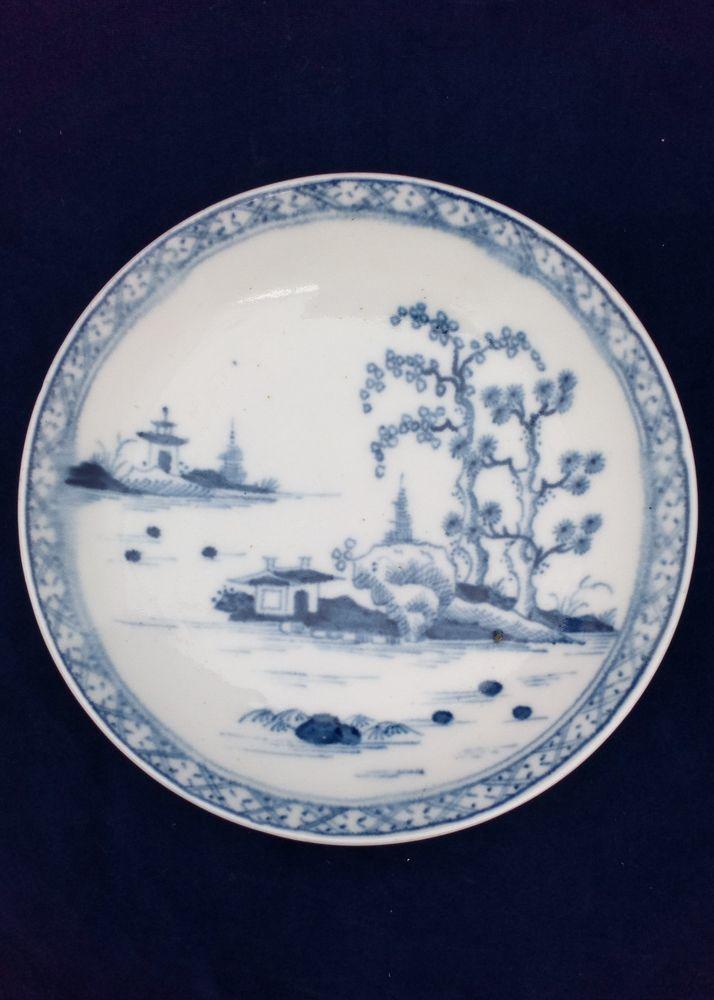 Cannonballs are all over this Worcester Pattern Saucer!
Sunday 17th March 2019
Worcester Porcelain Dr Wall Period Cannonball Pattn Blue and White Saucer c 1760.A Dr Wall, or first period Worcester Porcelain, blue and white hand painted saucer dating from the third quarter of the 18th century. The saucer is decorated with the "Cannonball" pattern, which consists of Chinese buildings on islands…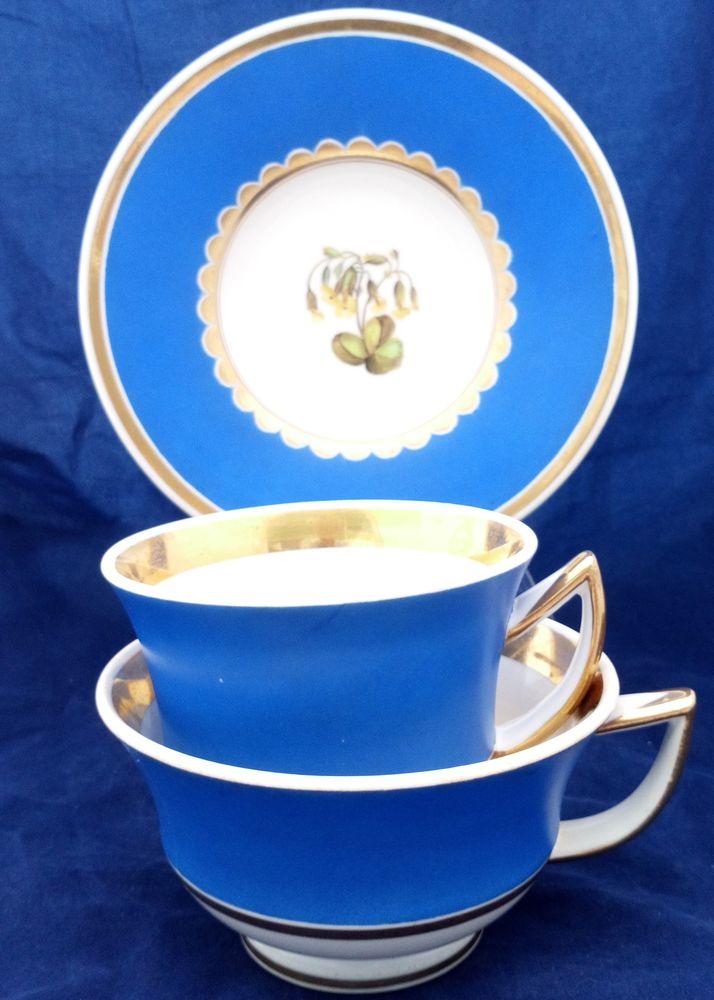 Beautiful Brunswick Blue Trio from Brameld's Rockingham Works
Thursday 14th March 2019
Rockingham Brameld Porcelain Brunswick Blue Trio Cups & Saucer Cowslips c 1826.Rockingham Porcelain Brameld Trio in English porcelain which consists of an etruscan shaped tea cup, coffee cup and saucer, dating from around 1826-30. Each has been nicely hand painted and gilded with an Brunswick blue ground. The cup shapes…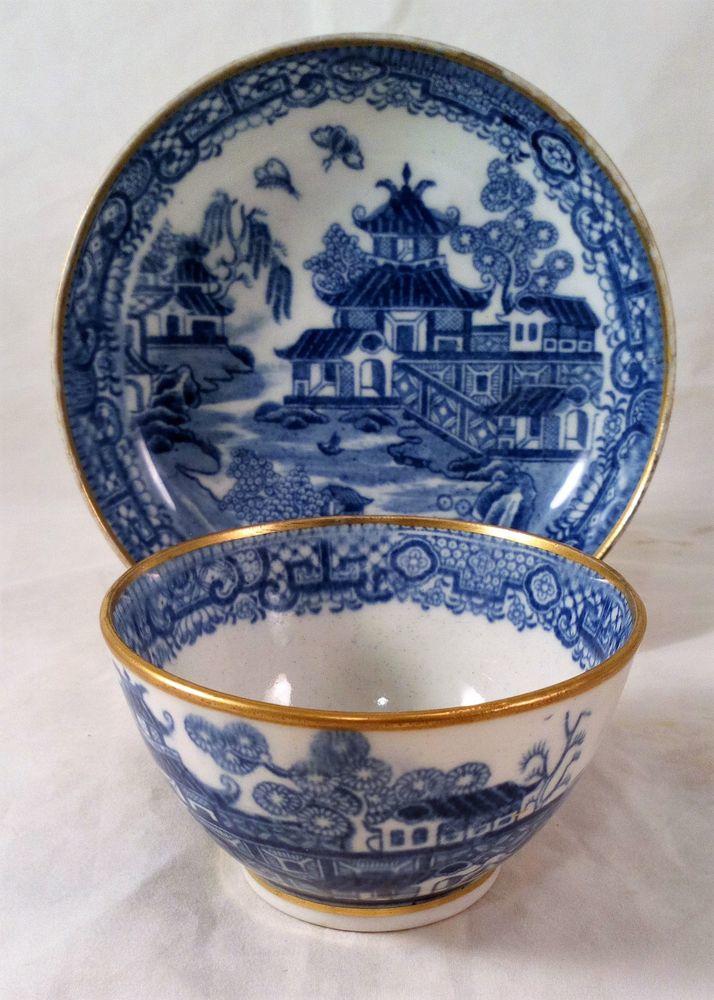 It is a bit early in the year for Moths, but here are two Newhall ones!
Sunday 10th March 2019
New Hall Porcelain Two Moths Willow Pattern Tea Bowl & Saucer ca 1795A New Hall hybrid hard paste porcelain, transfer printed blue and gilded tea bowl and saucer dating from the late 18th century, (1795-1805). Both the bowl and the saucer are decorated with the "Two Moth Willow" pattern.This under-glaze…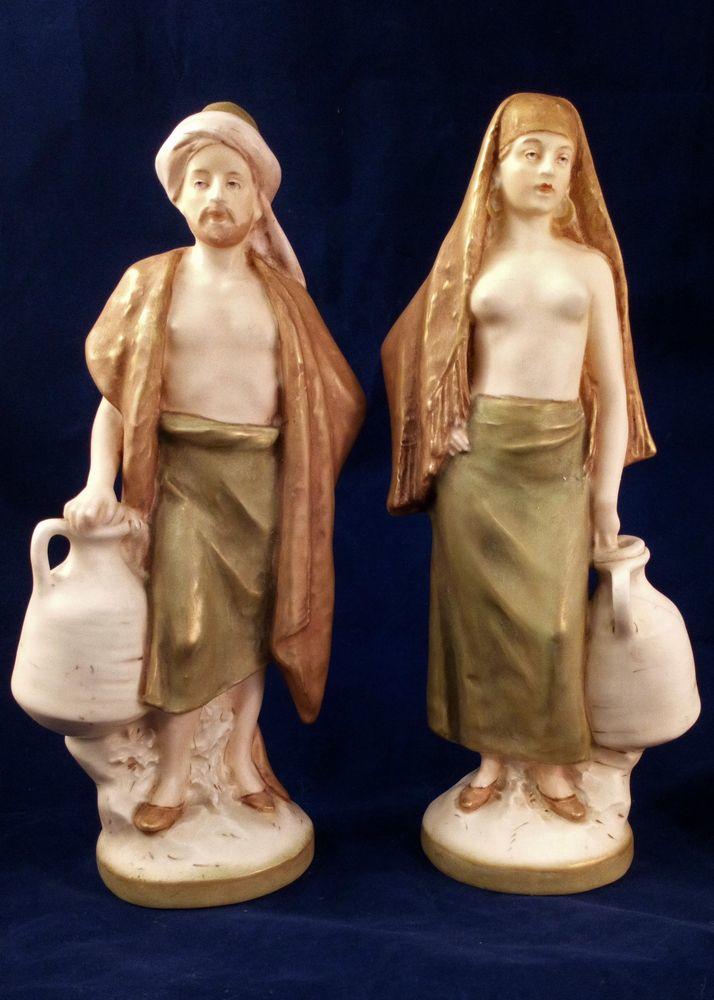 What pair of water carriers!
Sunday 3rd March 2019
Royal Dux Porcelain Pair Figurines Arabian Water Carriers 1444 1445 Antique circa 1910Pair of Royal Dux porcelain figurines of Arabian water carriers, both topless and carrying two handled water jars. This is a very attractive and highly collectable pair of Royal Dux figurines - model numbers 1444 and 1445 -…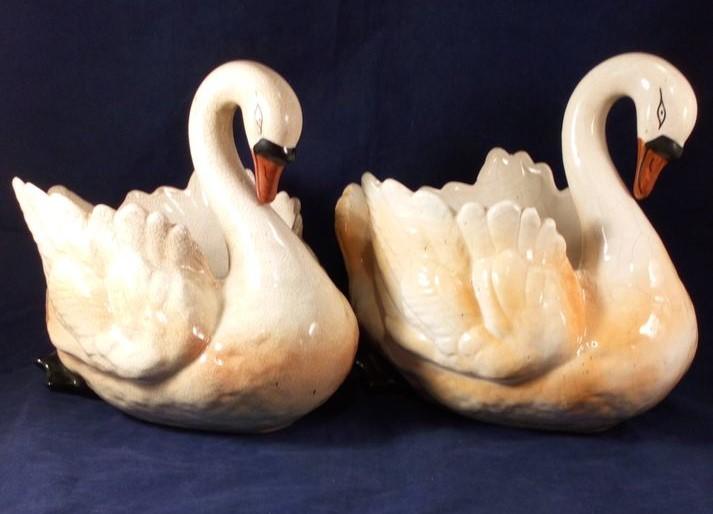 Swanning around with these great planters or jardinieres
Thursday 28th February 2019
A late 19th century pair of English Staffordshire pottery large enamelled swan shaped jardinieres or planters.This great pair of planters dating from around 1880 -1900 and unmarked except for an impressed number 4 on each base. One swan is slightly larger that the other so possibly they have been produced…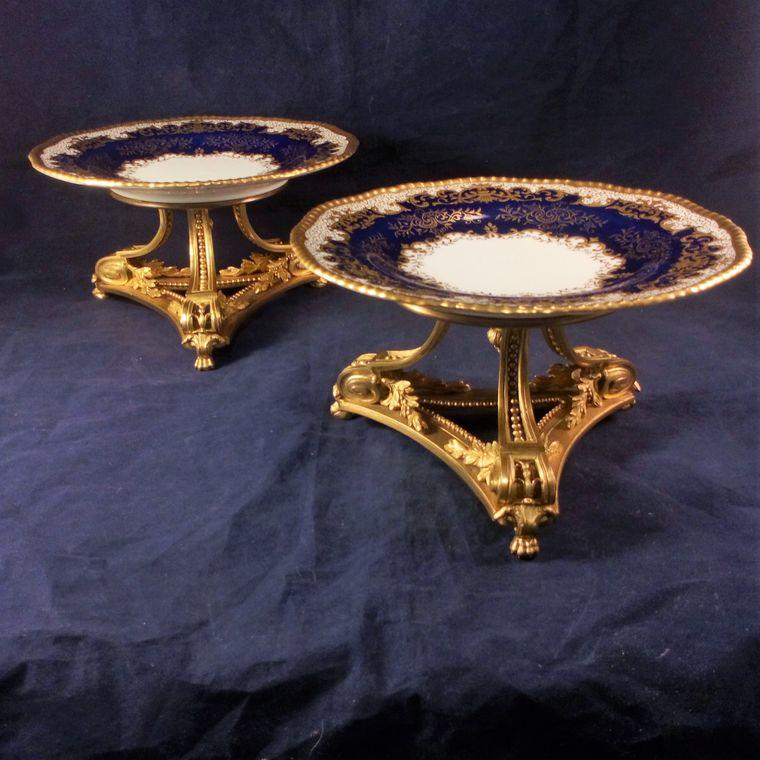 A stunning way to serve you cakes or patisseries!
Saturday 23rd February 2019
A pair ormolu mounted bone china (porcelain) plates, comports or tazzas with a rich cobalt blue ground and copious ornate tooled scrolling gilding in the Sevres ( Sèvres ) style. Each Coalport porcelain plate decorated in pattern number X1785 ( Z976) is affixed to a very stylish neo-classical gilt bronze…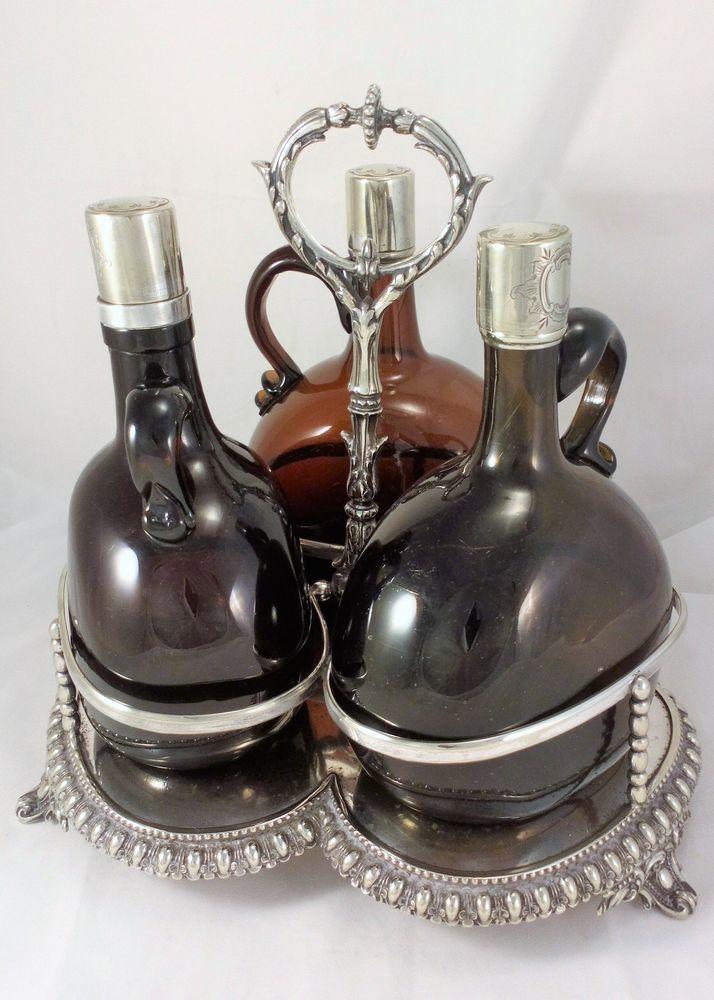 Spirits Decanters take the stand for the hosts of discerning drinkers!
Sunday 17th February 2019
If you host parties or celebrations where your guests like a stronger drink, then here is a stylish way of serving your spirits. You can decant your Whisky, Gin, Whiskey, Rum, Brandy or whatever tipple you prefer into these three brown glass spirits flasks. The three sit in a beautiful…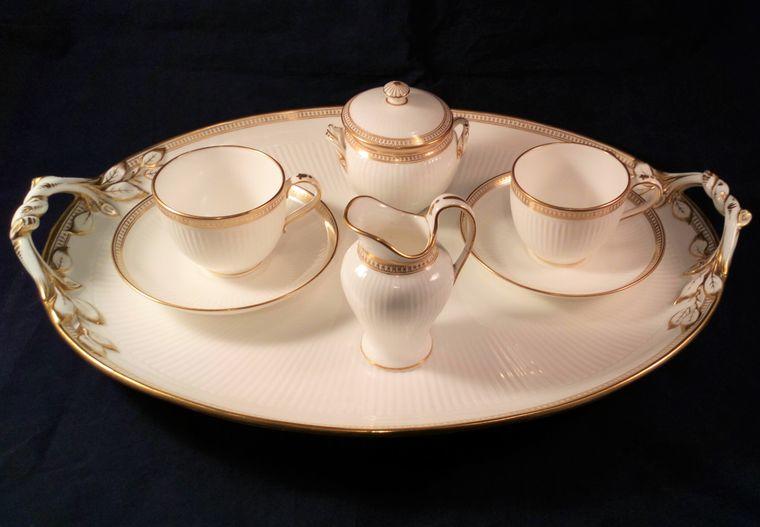 An elegant Minton White and Gilt Bone China Cabaret Set or Tete a Tete
Monday 11th February 2019
This is a way to impress your visiting friend, or your partner, with this very stylish, elegant cabaret set.An exquisite Minton bone china cabaret set for two consisting of two cups and saucers, a milk jug, sucrier and cover and large oval two handled tray from the Victorian era, circa…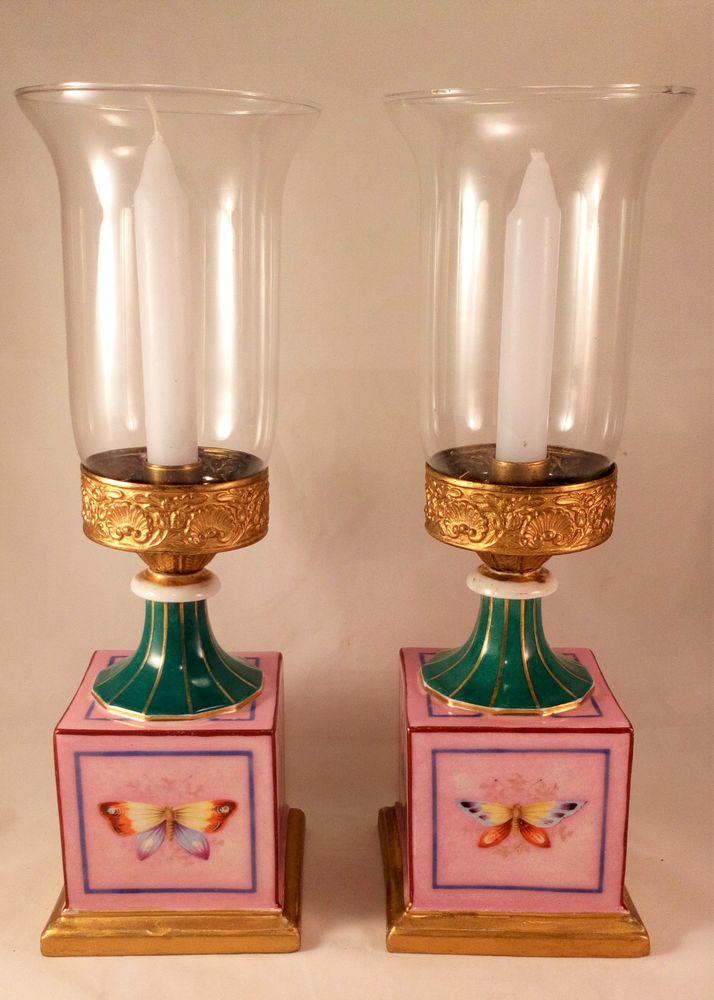 Pair of Storm Lanterns French Old Paris Porcelain Butterflies Antique c 1830
Wednesday 30th January 2019
How stylish your dinner table could look with these two beautiful storm lanterns! A pair of beautiful, rare, Old Paris porcelain ( Vieux Paris porcelaine ) square plinth and ormolu storm lanterns or hurricane lamps, for candles, complete with glass shades. The cube shaped porcelain bases, or socles, are painted with…
---
© 2018. All Rights Reserved.
The item has been added to your basket