---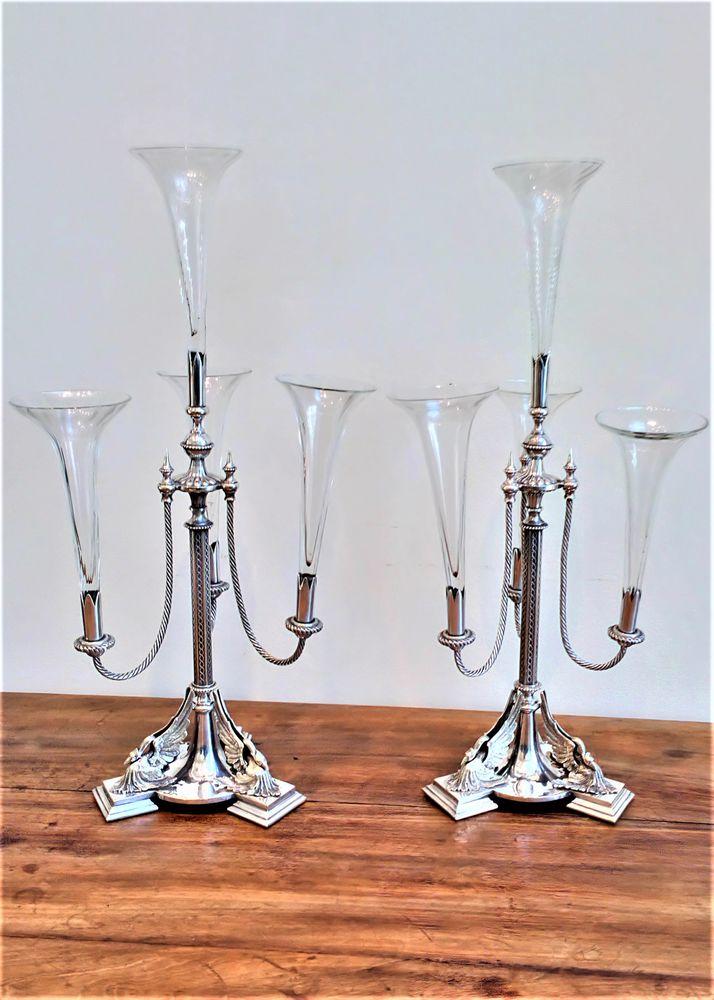 Improve your Dining Table Sparkle with a Pair Silver Plated Epergne Stands With Phoenix Mounts and Glass Trumpets
Saturday 14th March 2020
Sparkle up you dining table with this pair of beautiful quality mid Victorian neoclassical cast silver plated three-branch epergne stands, with three applied Phoenix mount decorations. (Some collectors may call these Griffin, Griffon, or Gryphons or even possibly swans but, they have crested heads and curved or hooked beaks). Each…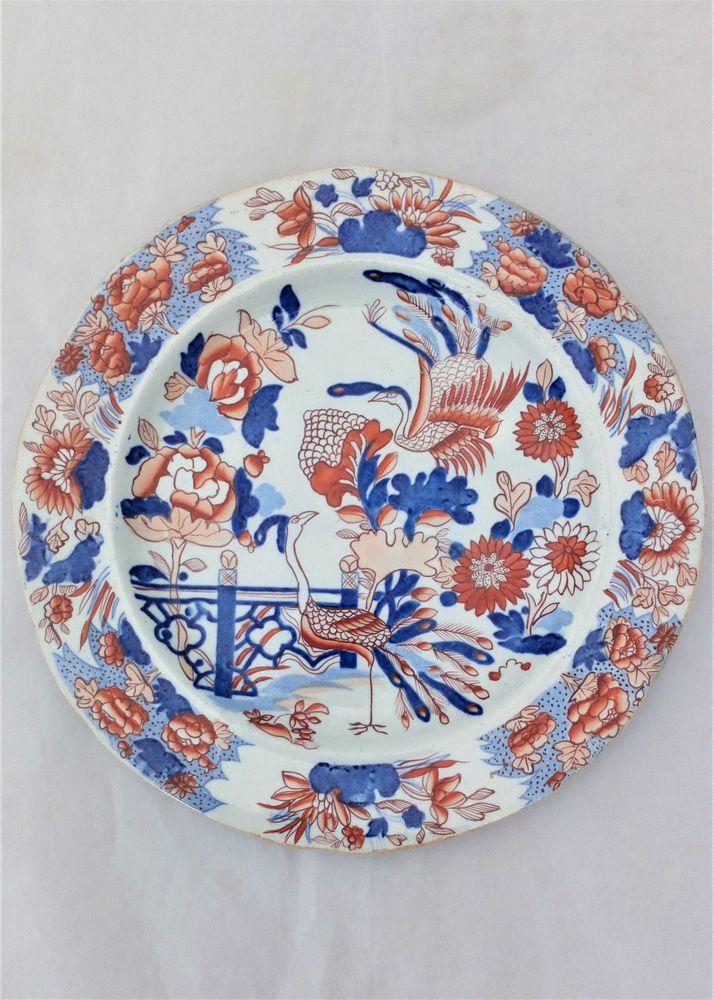 Mason's Patent Ironstone Plate Golden Peacocks Pattern Transfer Antique circa 1815
Sunday 8th March 2020
Added to our latest stock is this very attractive antique ironstone lobed round shaped dinner plate by the renowned English maker, Mason's and with their early impressed line mark: "MASON'S PATENT IRONSTONE CHINA" on the base. This plate dates to 1813 - 1820 during the Regency period in the UK.…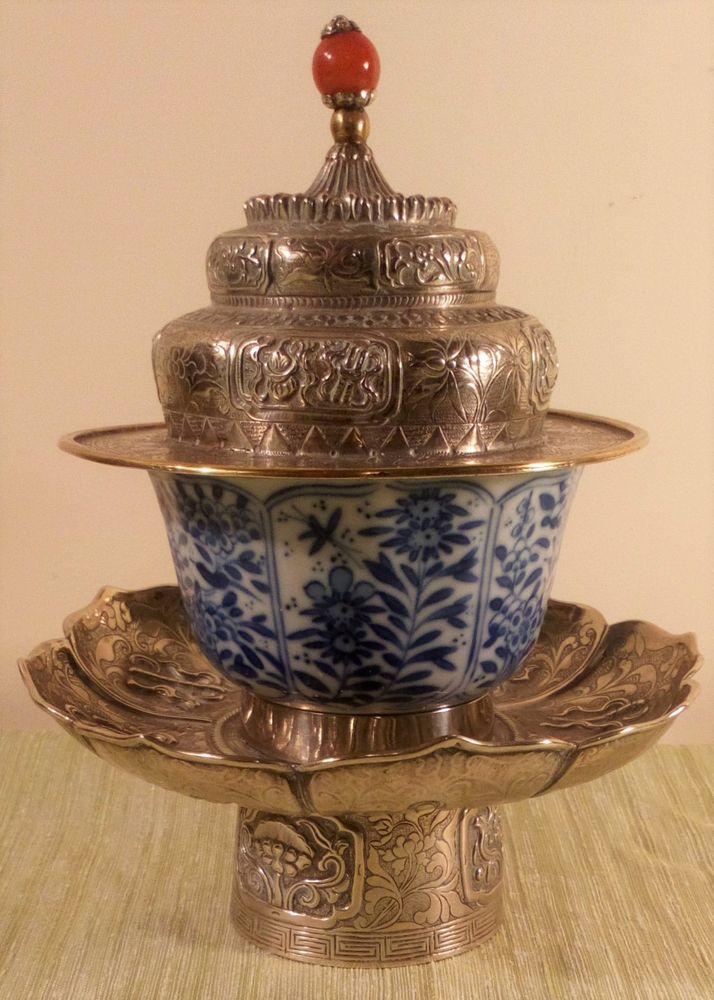 Tibetan 19thC Tea Bowl Stand and Cover Kangxi 康熙 Porcelain Bowl Antique 18th
Saturday 29th February 2020
An antique Chinese Kangxi blue and white porcelain tea bowl with an antique Tibetan embossed and chased white metal stand and cover. Such cups and covers were used in Tibet by senior monks (Lamas) and aristocratic families usually for drinking tea. Some collectors may possibly refer to this item as…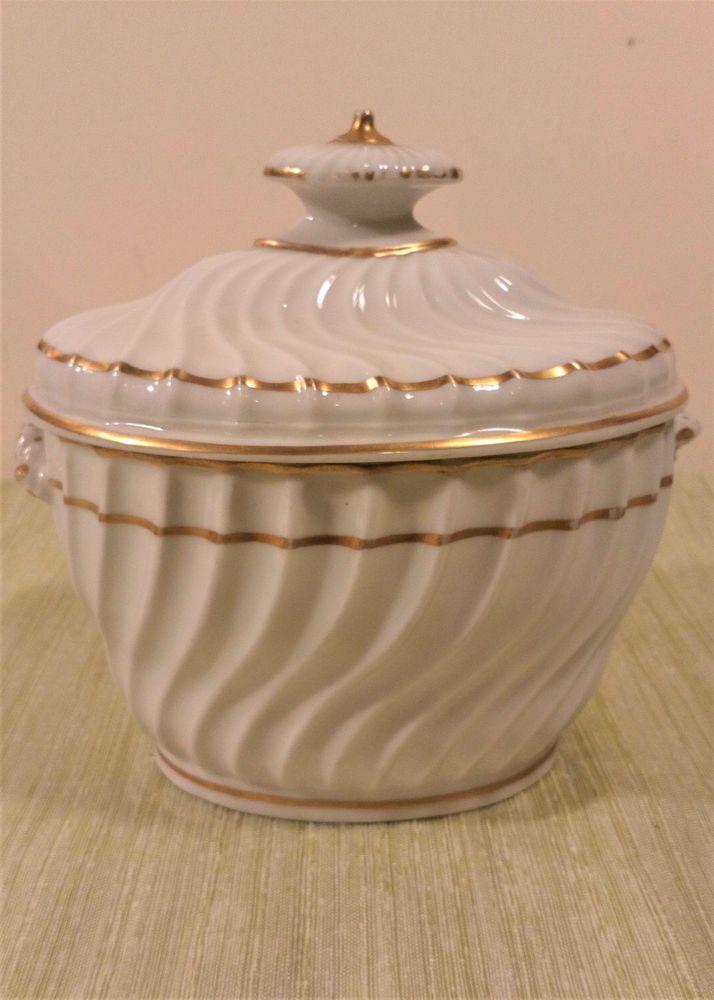 A rare Hybrid Hard Paste Porcelain Spiral Shanked Sucrier AE Keeling pattern 33 circa 1800
Wednesday 19th February 2020
We have a rare and unusual waisted and ogee fluted, or spiral shanked, or wrythen hybrid hard paste porcelain sucrier or sugar box gilded with simple bands and dots on the handles in pattern number 33. The lid has a distinctive long flat silver shaped "ivory" style knob or finial…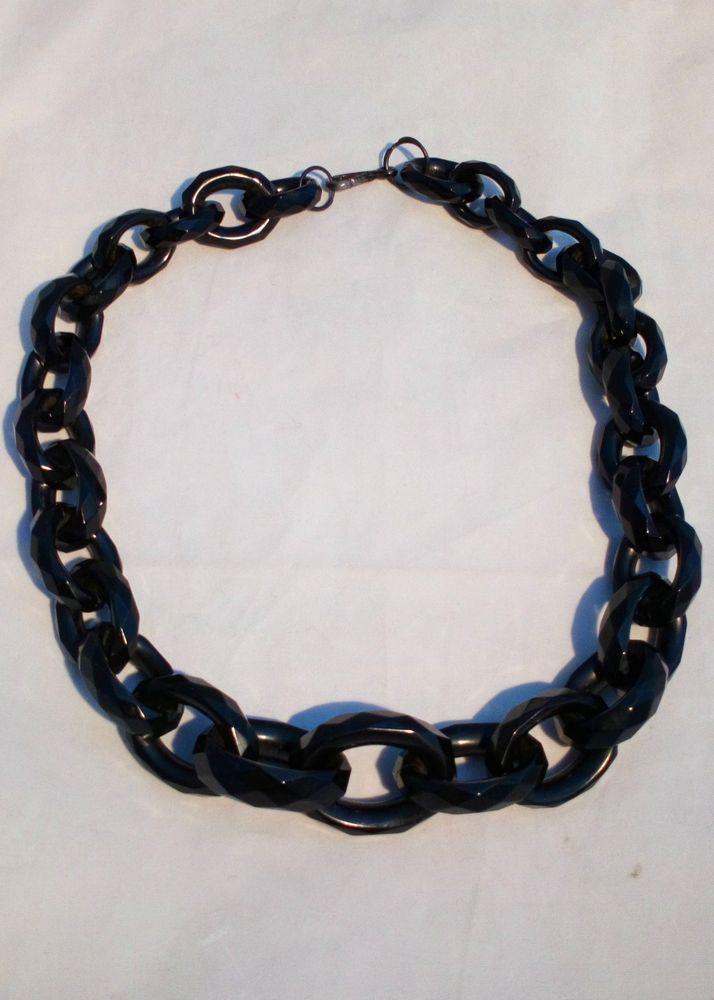 Gorgeous Victorian Carved Whitby Jet Necklace Chain Faceted Rings 21 inches 62 g Antique c 1870
Sunday 16th February 2020
A superb antique Victorian period Whitby jet chain necklace dating from circa 1870. This an excellent example of Whitby jet, it is a hand carved belcher link chain which has faceted detail to the outer edge of each link. Chains like this were cleverly constructed by making the two halves…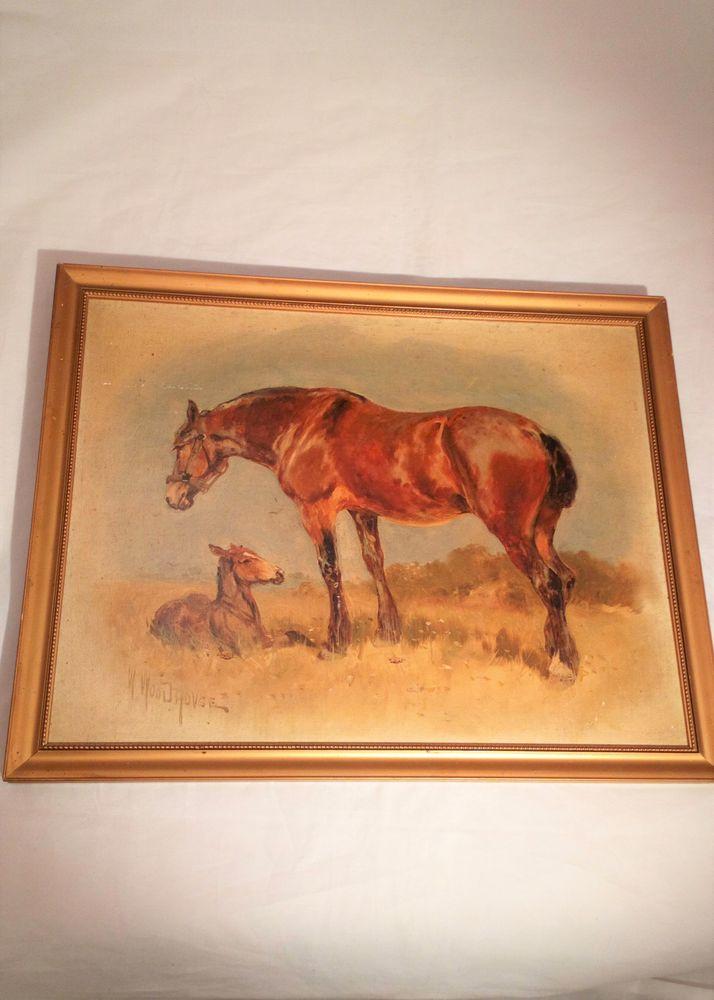 Antique Signed William Woodhouse Oil Painting of Horse and Foal circa 1910 - 1920
Sunday 9th February 2020
A very attractive and collectable oil painting by a renowned Northern artist, William Arnold Woodhouse. This beautiful study of a horse and foal in a meadow is signed by the artist, William Woodhouse (1857 - 1939) of Poulton le Sands, Lancashire.Woodhouse specialised in animal portraits in the tradition of Landseer…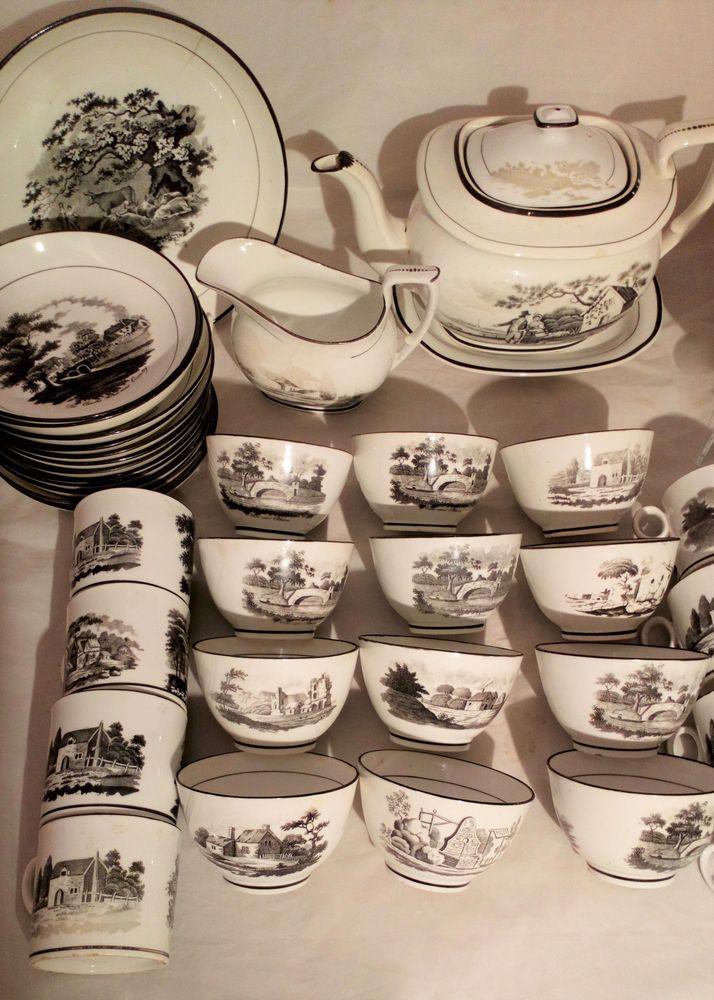 New Hall Porcelain Tea and Coffee Service Bat Printed Landscapes Pattern 1063 44 pieces circa 1815
Sunday 2nd February 2020
A rare antique bat printed full tea and coffee service made by the New Hall porcelain company and decorated in pattern number 1063. The design consists of a number of different rural landscape scenes, some including country houses, all printed in black with hand painted black enamel decoration. The tea…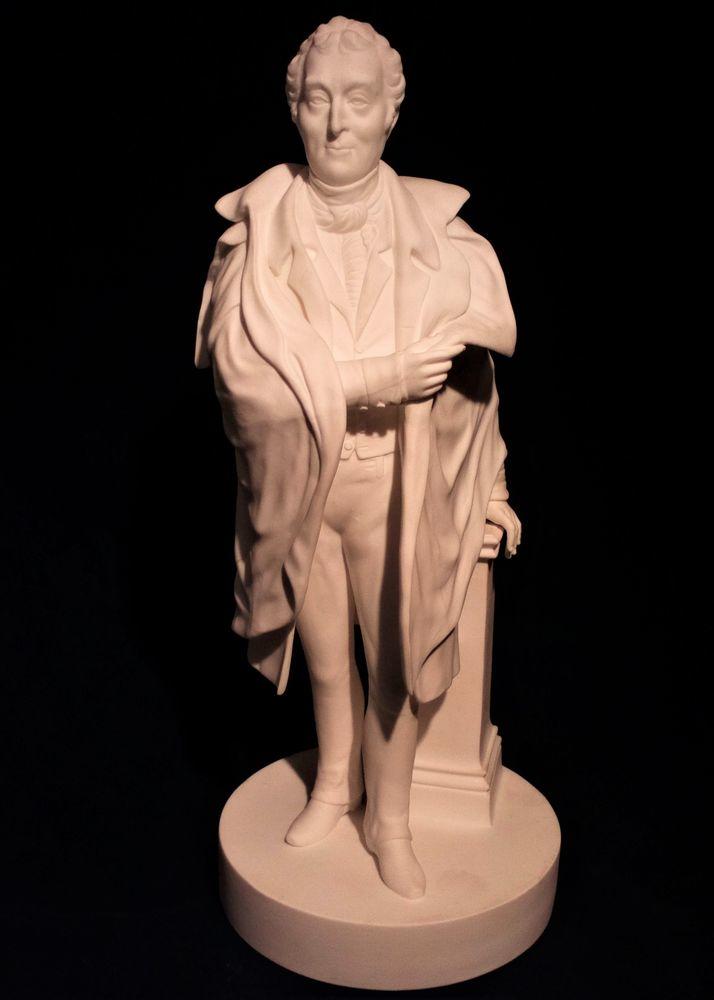 Waterloo Waterloo - Not Abba! but the Duke Of Wellington Biscuit Porcelain Figurine of course!
Sunday 26th January 2020
A Minton biscuit or bisque porcelain figurine of the Duke of Wellington. This attractive, highly decorative and very collectable English bisque porcelain figurine of Arthur Wellesley, 1st Duke of Wellington, KG, GCB, GCH, PC, FRS (1 May 1769 – 14 September 1852) modelled as a statesman standing, with his left…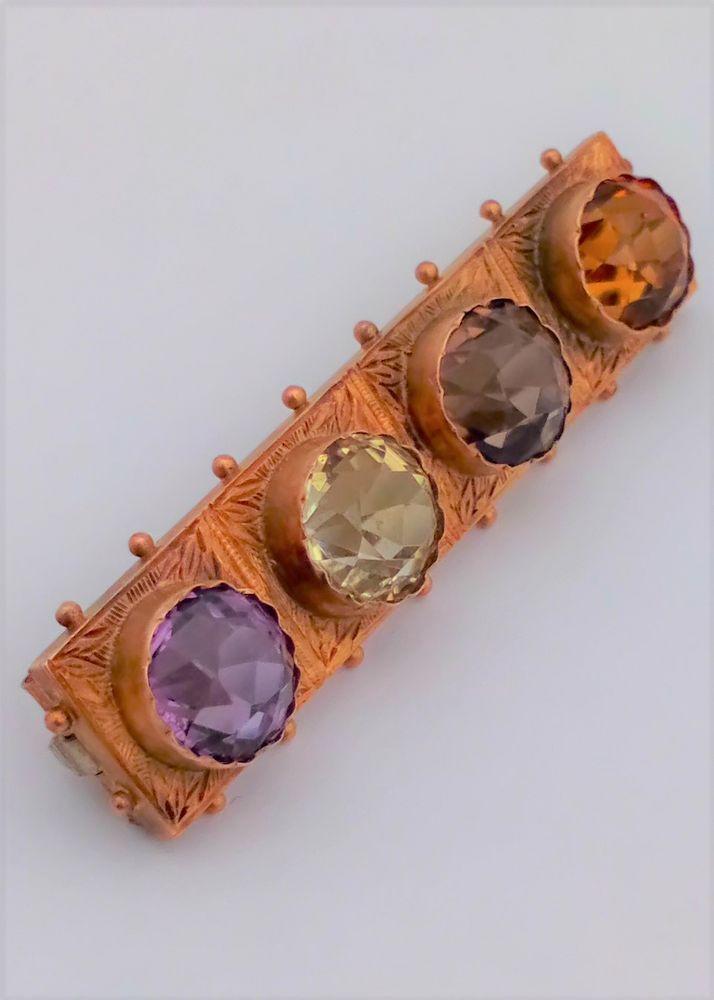 Antique 15ct Gold Four Gemstone Set Bar Brooch Aesthetic Movement c 1880
Sunday 19th January 2020
Treat yourself to a superb antique Aesthetic Movement period 15ct gold brooch or pin dating from around 1880. This very attractive brooch is made of 15ct yellow gold - unmarked but tests as such - that has a bloomed or matt finish, a popular feature with jewellery of this period.…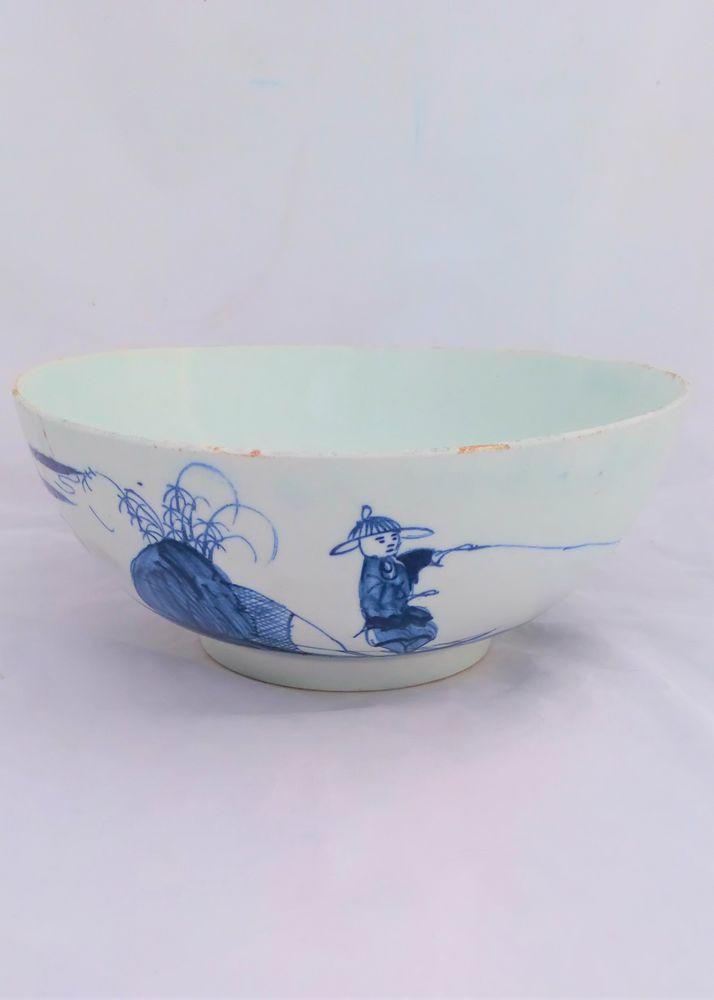 Bow Porcelain Fisherman and Cross Legged Chinaman Bowl circa 1750 - no he is not tall and angry!
Sunday 12th January 2020
A reasonably rare and highly collectable Bow porcelain 8 inch diameter bowl painted in blue externally with the 'fisherman' and 'Cross-legged Chinaman' patterns. A figure standing on a sampan holding a cast line, a seated figure on the reverse, 20 cm diameter, workman's mark to the base. The interior with…
---
© 2020 Jockjen Antiques. All Rights Reserved.
The item has been added to your basket