A rare Hybrid Hard Paste Porcelain Spiral Shanked Sucrier AE Keeling pattern 33 circa 1800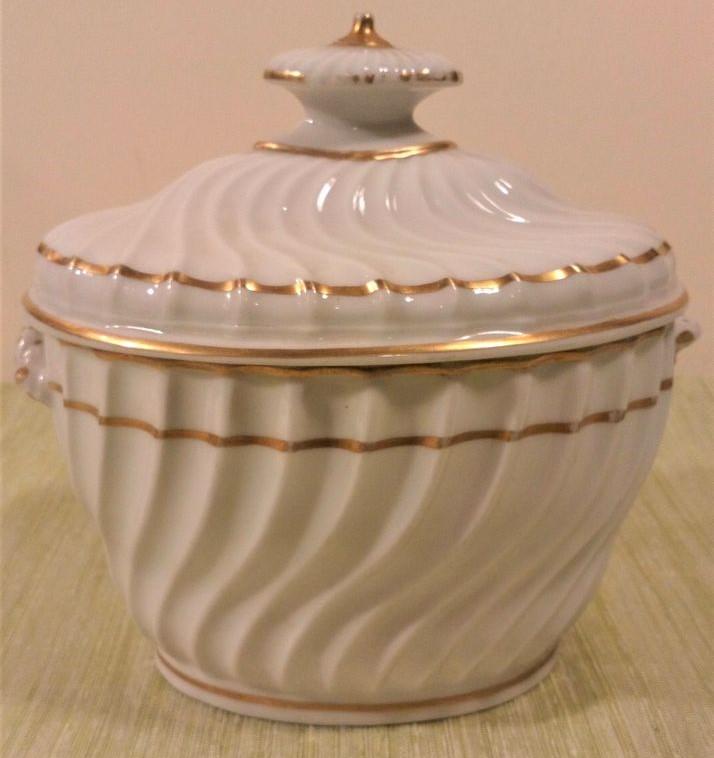 We have a rare and unusual waisted and ogee fluted, or spiral shanked, or wrythen hybrid hard paste porcelain sucrier or sugar box gilded with simple bands and dots on the handles in pattern number 33. The lid has a distinctive long flat silver shaped "ivory" style knob or finial with pronounced nipple to the top. The handles are also very distinctive shell scrolls. The sucrier has 28 spiral flutes on the body and lid, as well as 28 straight flutes to the knob.
This sucrier only has a pattern number and is unmarked but, it was most probably produced by A & E Keeling, previously the known as the unidentified factory X,. Anthony and Enoch Keeling ran the Pheonix works in Tunstall Staffordshire, England from 1781 until 1810. Anthony had been an original partner in the Hollins, Warburton and Co (New Hall porcelain) works but he and John Turner withdrew after a dispute.
A very similar shaped teapot, with a different pattern, is illustrated on plate 117, number 374, page 228 of British Teapots and Tea Drinking by Robin Emmerson. Also a teapot in the same shape on plate 571, on page 96 of "A Directory of British Teapots" by Michael Berthoud and Richard Maskell.
Hybrid Hard Paste Porcelain Spiral Shanked Sucrier AE Keeling pattern 33 c 1800