A rural Idyll - walking to market Samuel Alcock Porcelain Shell Edge Dessert Plate 3028 pattern circa 1830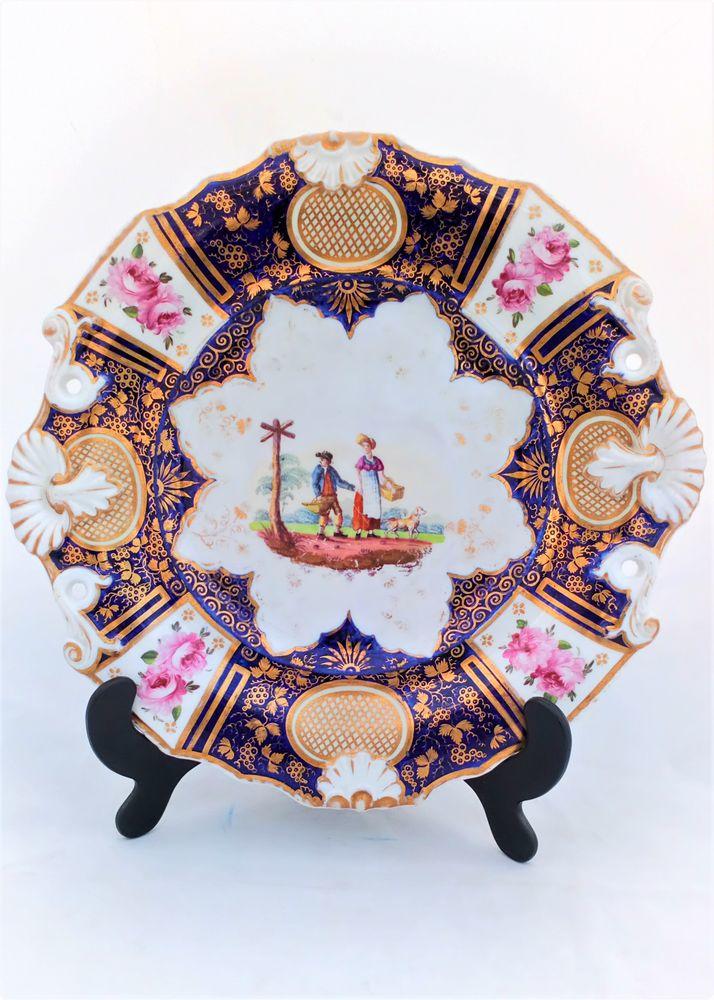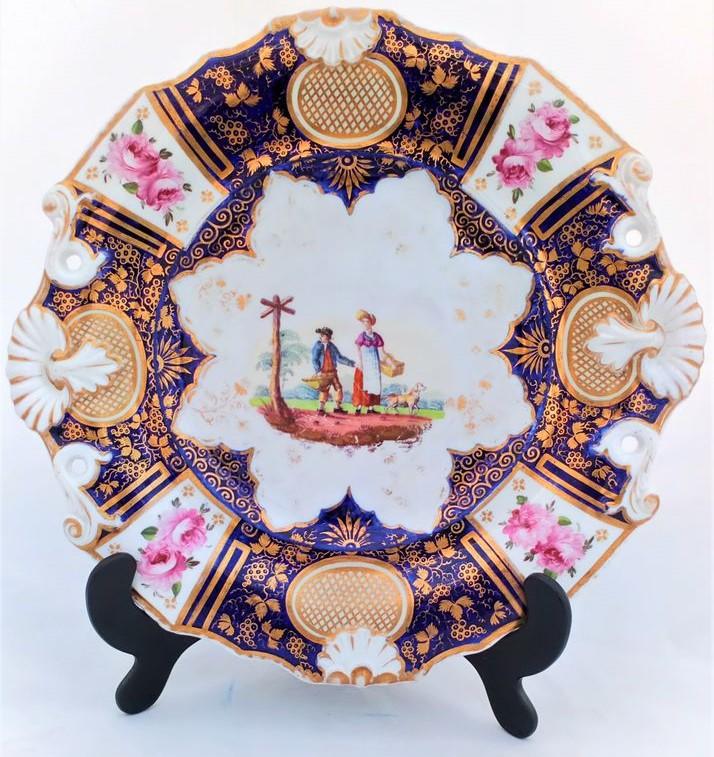 An ornate Samuel Alcock and Co porcelain dessert plate neatly and very skillfully hand painted and gilded in their extraordinary pattern number 3028. The plate with is low relief moulded has an ornate scrolling gadrooned rim with two shell and anthemion leaf "handles" with pierced holes on either side. The handles are further complemented with two shell mouldings perpendicular to them. The back of the plate has an ornate hand painted scrolling pattern number in iron red: No 3028. This plate dates to around 1830.
The plate has a deeply scalloped cobalt blue border with roughly rectangular shaped rose or floral panels. There is extensive gilding of anthemion, grape vines and cross hatching. This pattern has a central rural figural scene of a mother and son walking hand in hand, each carrying a basket presumably off to market, as there is a signpost indicating a cross roads. They are being led by a white and brown Spaniel or gun dog.
This plate carries the Alcock version of "841" pattern, as designated by Michael Berthoud, see introductory note (g) page xv of a Compendium of British Cups. The pattern was popular around 1815 to 1825 and was revived by Samuel Alcock and produced up to about 1840.
Samuel Alcock and company operated from Hill Works, Liverpool Road, Burslem, Staffordshire, England from 1828 until 1860.
https://www.jockjenantiques.com/samuel-alcock-porcelain-shell-and-scroll-edge-dessert-plate-hand-painted-3028-pattern