Antique Chinese Porcelain Oval Platter Blue and White Butterfly Qianlong Qing circa1770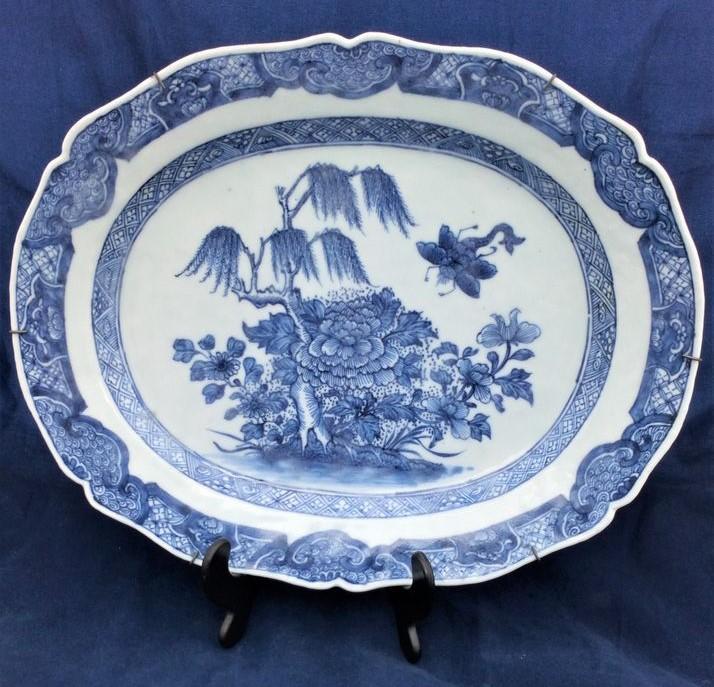 An antique Chinese export porcelain scalloped rim platter, rectangular plate or charger decorated with a hand painted oriental garden pattern in under-glaze cobalt blue. The central design consists of a willow tree above a large flowering peony and to the left a chrysanthemum flower, and butterfly or dragon fly, all contained within a ring and cloud scroll and diaper pattern border. There is a outer diaper border at the rim with lotus panels interspersed with a floral and wave scroll pattern. The flat base has an orange tinge iron staining to it.
It dates to the late eighteenth century , circa 1770, during the reign of the Emperor Qianlong 乾隆 (1736-95) in the Qing dynasty 清代.
The plate is 12 inches (30.5 cm) long and is 9 3/4 inches (24.8 cm) wide , it weighs 712g unpacked.
https://www.jockjenantiques.com/chinese-porcelain-platter-blue-and-white-butterfly-willow-and-peony-qianlong-qing