Antique Georgian Enamelled Pearlware Portrait Plaque General Monckton circa 1785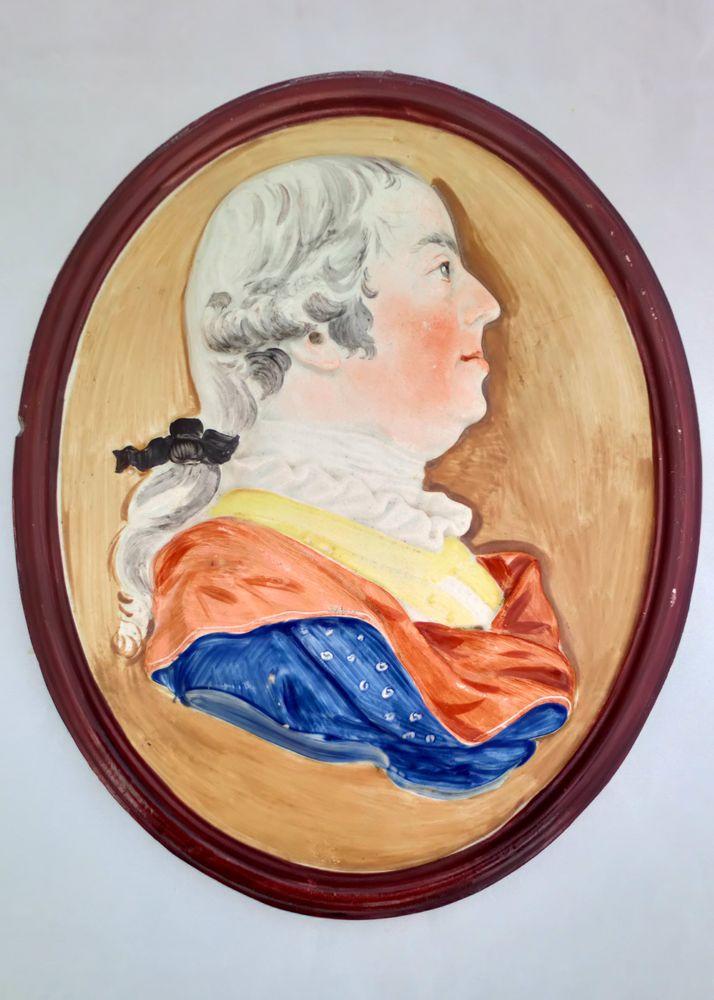 Georgian Pearlware Portrait Plaque General Monckton Enamelled Antique c 1785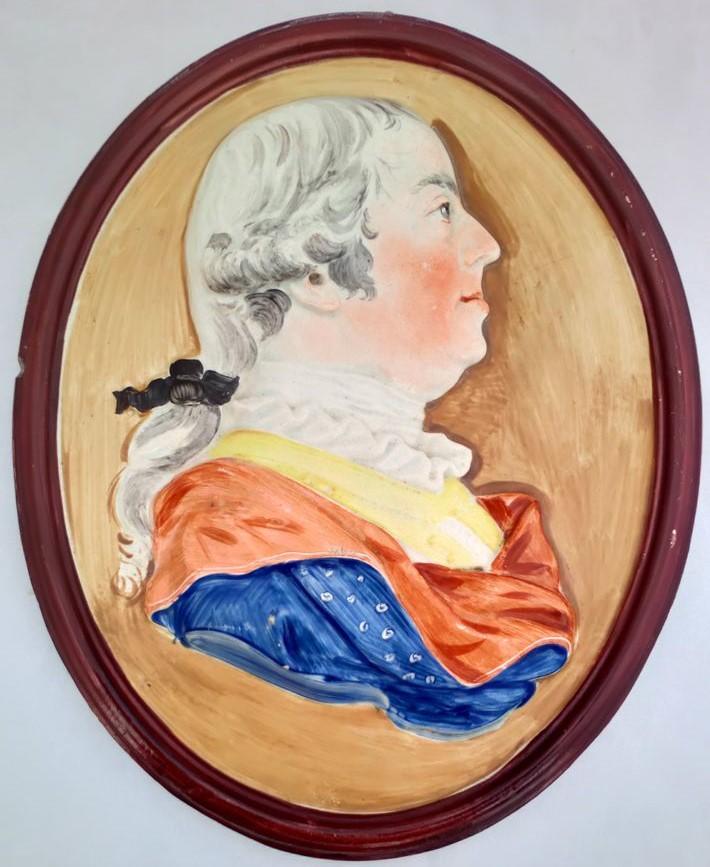 An oval portrait medallion or wall plaque of General Robert Monckton, made from polychrome enamelled pearlware ceramic possibly after a model by James Tassie, circa 1785. He was a veteran of the French and Indian Wars of North America.
Robert Monckton (1726 - 1782) was the second son of John Monckton, 1st Viscount Galway, and one of the most prominent British Army officers to participate in the wars against France in North America and Canada. He was also a colonial administrator in British North America. He had a distinguished military and political career, being second in command to General Wolfe at the battle of Quebec and later being named the Governor of the Province of New York.
In 1741, at age 15, Robert Monckton was commissioned in the 3rd Foot Guards and sent to Europe to serve in the War of the Austrian Succession. Monckton saw action at Dettingen (Federal Republic of Germany) and at Fontenoy (Belgium), staying on in Flanders after the British army was recalled to suppress the Jacobite rebellion in 1745. Commissioned captain in the 34th Foot on 27 June 1744, he was promoted major on 15 Feb. 1747/48 and lieutenant-colonel of the 47th Foot on 28 Feb. 1751. On his father's death later that year Monckton became member of parliament for the family-controlled seat of Pontefract but was soon posted to Nova Scotia in present day Canada.
He was commander at Fort Lawrence (near Amherst, Nova Scotia) from August 1752 to June 1753, capturing Fort Beauséjour in June 1755. In December 1757 he was appointed Colonel of the 2nd Battalion of the Royal American Regiment, and in 1758 became Acting Governor of Nova Scotia (in the absence of Charles Lawrence) having been Lieutenant Governor since 1755.
Monckton is also remembered for his role in a number of other important events in the French and Indian War (the North American theatre of the Seven Years' War), most notably the capture of Fort Beausejour in Acadia, and the island of Martinique in the West Indies, as well as for his role in the deportation of the Acadians from British controlled Nova Scotia and also from French-controlled Acadia (present-day New Brunswick). The city of Moncton, New Brunswick, (about 50 kilometres (31 miles) west of Fort Beausejour) and Fort Monckton in Port Elgin, New Brunswick, are named for him.
During the Quebec campaign in 1759, Monckton was second in command to General Wolfe. However, he was forced to withdraw from the field following a wound to the lungs. On his recovery, Monckton became Commander of the Southern District and in 1761 was appointed Governor of New York. He was promoted to Major-General and was later Commander-in-Chief of the successful expedition against Martinique in 1762.
Monckton returned to England in 1763. He was made Governor of Berwick-on-Tweed, 1765, and Governor of Portsmouth in 1778. He requested to be appointed as Commander-in-Chief in India in 1773, but was rejected, and compensated with a grant of Crown land in St Vincent. He was M.P. for Portsmouth from 1778 until his death in 1782, but did not make any speeches in the House of Commons. He sat in the British House of Commons between 1774 and 1782. Although never legally married, he raised and was survived by three sons and a daughter.
The plaque has no makers marks other than an incised number 132, it was probably produced by one of the Staffordshire factories in around 1785. The integral low relief border is also hand coloured and made to look like a wooden frame.