Beauty is in the eye of the beholder and what a beauty!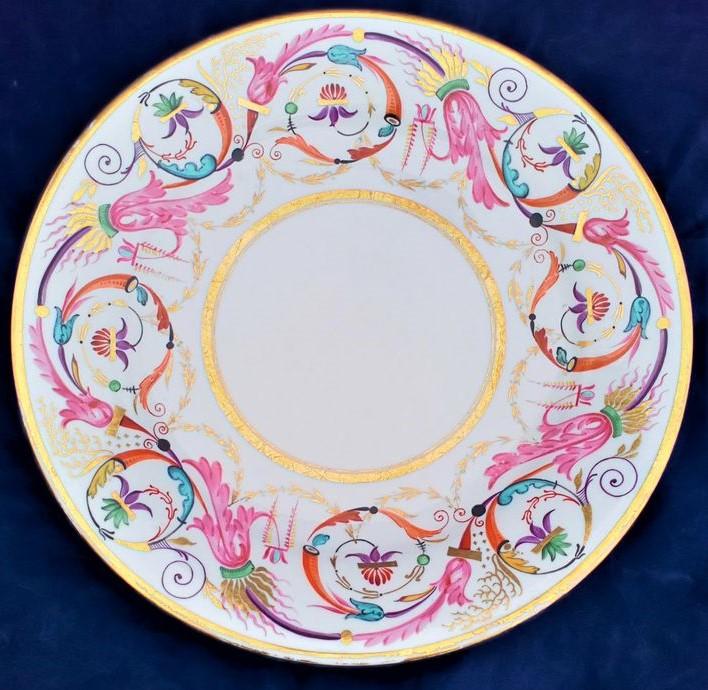 It is said that beauty is in the eye of the beholder, well this is certainly a beauty! This Flight Barr and Barr period Worcester Porcelain, classical Regency scroll pattern hand painted and gilded dessert plate dating from circa 1813 during the Regency period in the early 19th century.
The pattern consists of a colourful continuous acanthus leaf and flaming scroll, with cornucopias, swags and floriate decoration. The colour palette of bright turquoise, green, red, purple, pink and gilding on pure white porcelain creates an exceptional and bold design.
This is a very fine English porcelain plate that carries the impressed mark on the base of a crowned BFB for Barr, Flight and Barr who operated from 1804 until 1813. However, the back also has the transfer print mark in puce " Flight Barr and Barr, Proprietors of the Royal Porcelain Works, Worcester, established 1751. The Royal crest is above and the Prince of Wales feathers are below. Around this large circular mark is the inscription Manufacturers to their Majesties. and the Prince Regent "London' Warehouse No,1 Coventry Street". " These beautifully painted and designed porcelains of the early 19th centuries were a great status symbol, and were the the height of fashion in the ostentatious Regency period.
In 1804 Martin Barr Junior (c.1784–1848) joined in partnership with his father ( Martin Barr Senior) and Joseph Flight ( who was the son of Thomas Flight the London agent of the Worcester Company who had taken over the business in 1783 from William Davis who had taken over from Dr Wall period). Martin Barr died in 1813 and the factory changed names again to Flight Barr and Barr but they continued to operate from the Warmstry factory at Warmstry House, Worcester, Worcestershire, England, This dish dates from around 1813 during the reign of George III but the whilst the Prince of Wales was Prince Regent during the Regency period.
Flight Barr and Barr Worcester Regency Porcelain Hand Painted Plate c 1813