Bow Porcelain Fisherman and Cross Legged Chinaman Bowl circa 1750 - no he is not tall and angry!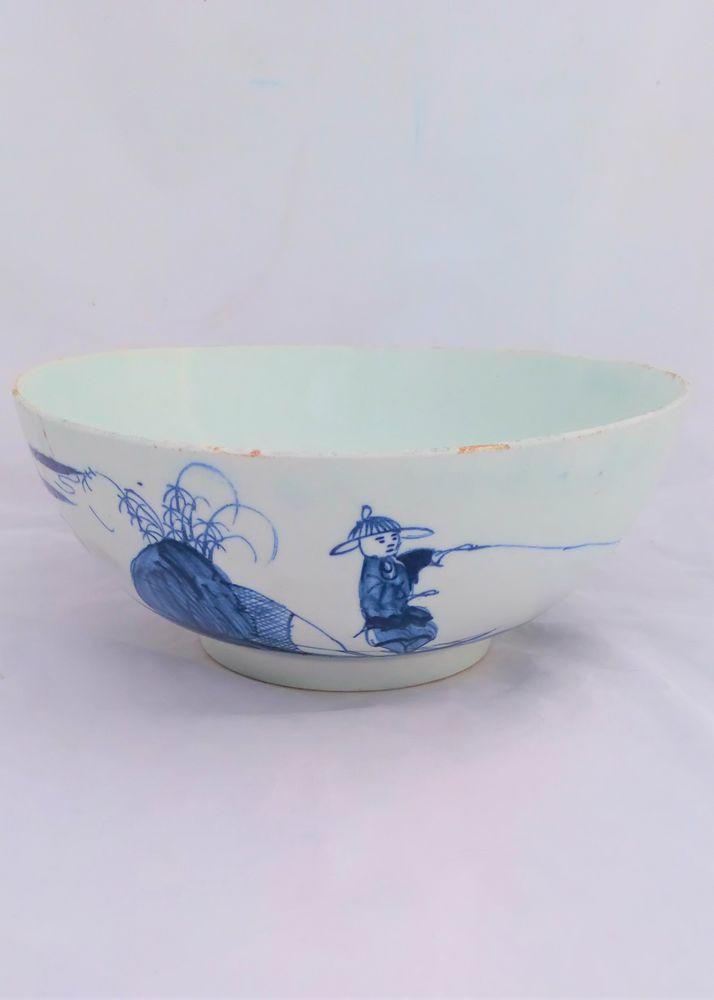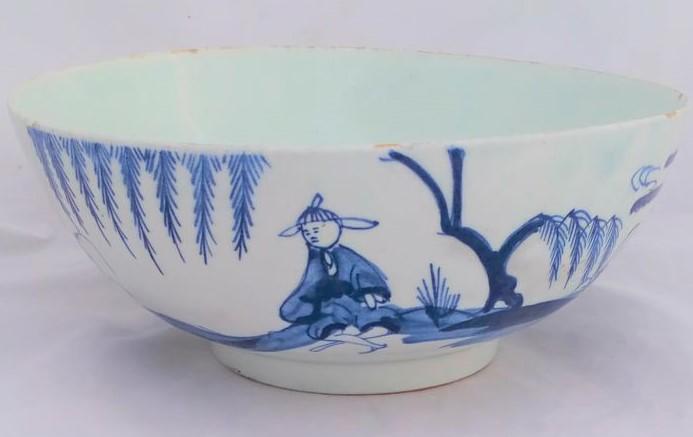 A reasonably rare and highly collectable Bow porcelain 8 inch diameter bowl painted in blue externally with the 'fisherman' and 'Cross-legged Chinaman' patterns. A figure standing on a sampan holding a cast line, a seated figure on the reverse, 20 cm diameter, workman's mark to the base. The interior with a rocks and reeds river scene.
The bowl is surprisingly heavy for its size at 739 grammes with a dense and thick body from the inclusion of bone ash.
The bowl has a double glaze appearance on the inside there is a small line where the "second blue tinted glaze has not covered a small section of the bowl. This bowl dates to the earlier period of the factory 1747 -1752.
See page 98 and Plate 17 page 99 of Bow Porcelain by Adams and Redstone. For a similar bowl see the Victoria and Albert museum collection website item number C.654-1924. For a similar pattern see also No 11 page 17 of Blue and White porcelain saucers by Steven Goss
The Bow porcelain factory (active circa 1747–64 and closed in 1776) was an emulative rival of the Chelsea porcelain factory in the manufacture of early soft-paste porcelain in Great Britain. The two London factories were the first in England. It was originally located near Bow, in what is now the London Borough of Tower Hamlets, but by 1749 it had moved to "New Canton", sited east of the River Lea, and then in Essex, now in the London Borough of Newham.
Bow Porcelain Fisherman and Cross Legged Chinaman Bowl 20cm 1750