Improve your Dining Table Sparkle with a Pair Silver Plated Epergne Stands With Phoenix Mounts and Glass Trumpets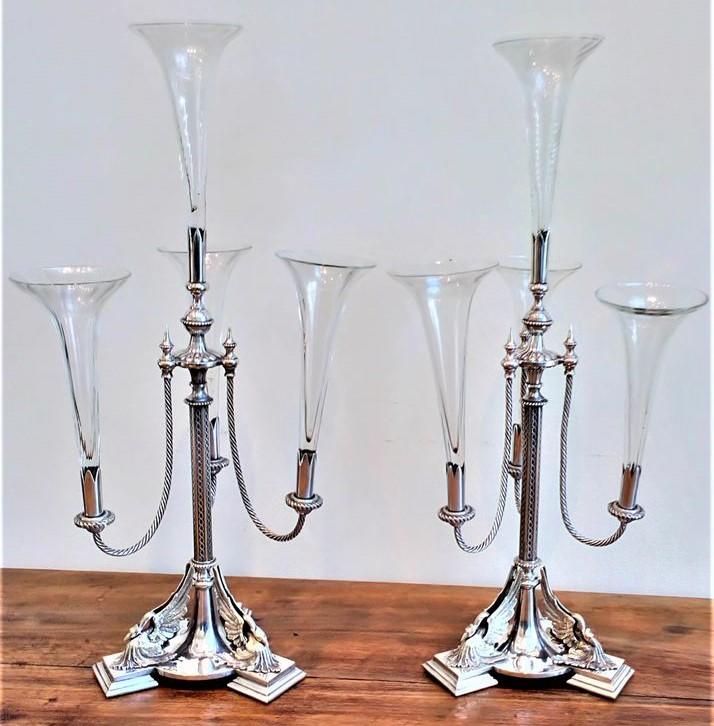 Sparkle up you dining table with this pair of beautiful quality mid Victorian neoclassical cast silver plated three-branch epergne stands, with three applied Phoenix mount decorations. (Some collectors may call these Griffin, Griffon, or Gryphons or even possibly swans but, they have crested heads and curved or hooked beaks). Each stand has four tall clear blown wrythen glass epergne trumpet horns.
The silver plated triform stands have three stepped square shaped feet each with mythical bird mounts. The central tapering base rises to classical column of hexagonal form, the facets decorated with engraved twisted rope effect. The knopped upper section is gadrooned and has a central beaded ball with an upper epergne holder. The three twisted rope effect branches have beaded ball and spire terminals. Each of the four epergne holders has a serrated or crenellated rim.
The lovely mouth blown glass, tall, thin trumpet horns are hand made, each have striations or ribbing. The top two of each stand have wrythen or twisted ribbing.
The Phoenix mounts are fastened to the base by small nuts ( which may be replacements) they allow the mounts to be removed to assist in proper cleaning and polishing. Each mount is individually numbered and has a corresponding number stamped on the base, hidden when in place. The numbering suggests that they may possibly have formed part of a much larger set in the past.
There are no maker marks however, these are undoubtedly of high quality, the type of work of reputable quality makers such as Elkington and Co or Walker and Hall.
Pair Silver Plated Epergne Stands Phoenix Mounts Glass Trumpet Neo Classical c 1870