Elkington Mason and Co Silver Plate Entree Dish Family Crest Hadwen Dated 1859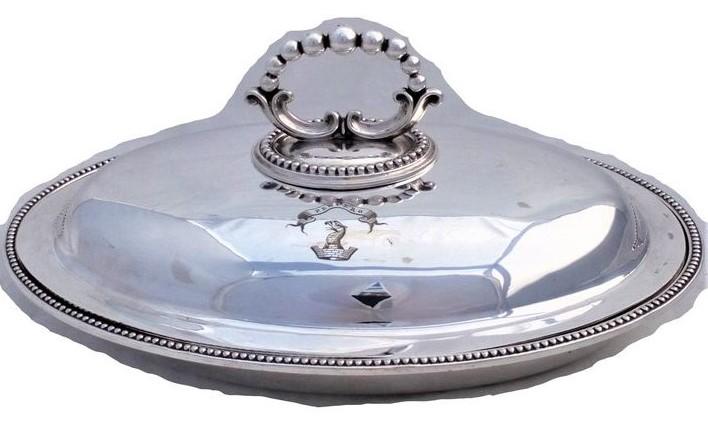 An excellent quality, heavy gauge silver plated beaded rimmed oval shaped entrée dish or vegetable tureen made by Elkington, Mason and Co. with their date code letter U for the year 1859 during the Victorian period.
The lid of the entree dish has crest engraved on each side which consists of a mural crown surmounted with a left looking eagles head and the motto Perfero (Latin to bear or carry). The Book of Crests gives the name of Hadwen of Lancashire as the original owners of this beautiful entree dish. The lid also has a cast handle that is beaded and scrolled, it is fastened underneath with a silver plated wing nut and locating peg.
The base of the oval shaped dish has a row of hallmark like stamps on the side below the rim. They are crowned E and Co, the letters E M and Co for the makers and the date code letter U in a diamond for 1859.
Elkington Mason and Co Silver Plate Entree Dish Family Crest Hadwen Antique 1859