Fabulous Regency Porcelain Barr Flight and Barr Worcester Porcelain Brilliant Imari Pattern Dish c 1810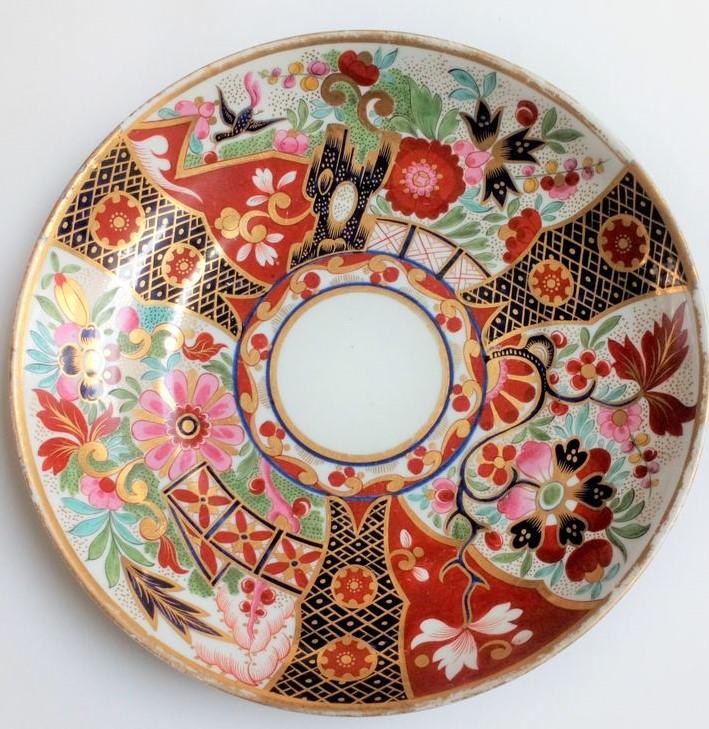 A Flight Barr and Barr period Worcester Porcelain, Imari pattern hand painted and gilded dessert dish or plate dating from 1804 to 1813 period in the early 19th century. The dish is decorated with the "Brilliant Imari" pattern, as it is referred to by some collectors.
The pattern consists of three large panels decorated with Chinese or more accurately Japanese garden scenes, around a central scrolling border. The scenes are: one with a diaper shaped fence and flowers, another with floral ground with a cross panelled fence, blue hollow rock and bird scene, the last with large colourful scrolling flowers. Each of these panels is separated by a diaper gilded blue two tined fork shaped band with two stylised iron red flowers.
This porcelain dish or plate carries the impressed mark on the base of a crowned BFB for Barr, Flight and Barr. The back also carries an old paper collection label.
In 1804 Martin Barr Junior (c.1784–1848) joined in partnership with his father ( Martin Barr Senior) and Joseph Flight ( who was the son of Thomas Flight the London agent of the Worcester Company who had taken over the business in 1783 from William Davis who had taken over from Dr Wall period). The next decade was to be exceptionally successful; some of the finest quality British porcelain was made at the Warmstry factory at Warmstry House, Worcester, Worcestershire, England, This dish dates from around 1810 during the reign of George III and near the beginning of the Regency period.
Regency Porcelain Barr Flight and Barr Worcester Porcelain Brilliant Imari Pattern Dish