Framed George Cruikshank Etching Original 1834 Coloured Print The Tailors Strike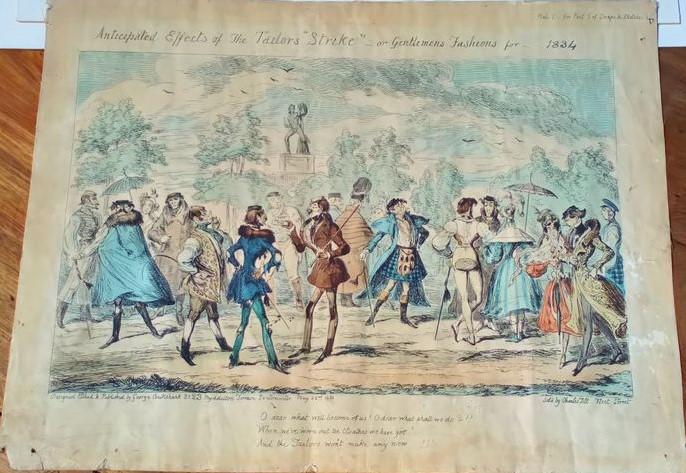 A satirical engraved print by George Cruikshank, designed etched and published No. 23 Myddleton Terrace Pentonville May 22nd 1834, sold by Charles Tilt of Fleet Street. It is titled "Anticipated Effects of Tailors 'Strike' - or Gentlemens Fashions for - 1834". This etching portrays fashionable society parading in Hyde Park in worn out and patched clothes. The satirical scene referring to the male tailors' strike, in London. The tailors struck for higher wages and the abolition of homework. This was effectively a strike to keep women out of the industry. It is also marked "Plate 1 - for Part 5 of Scraps and Sketches" but this is covered by the mount.
There is a verse at the bottom as follows:
O dear what will become of us !
O dear what shall we do!!
When we've worn out the cloathes we have got !
And the Tailors won't make any new!!!
The scene can easily be recognised as Hyde park, as in the background there is the statue of Achilles, the Greek hero of the Trojan War, which commemorates the soldier and politician, Arthur Wellesley, 1st Duke of Wellington (1769-1852). It was installed by order of King George III and unveiled on 18 June 1822.
Framed George Cruikshank Etching Original 1834 Coloured Print The Tailors Strike