How do you keep dog and cat hairs out of your wine? A lidded Wine Goblet or Deckelpokal of Course!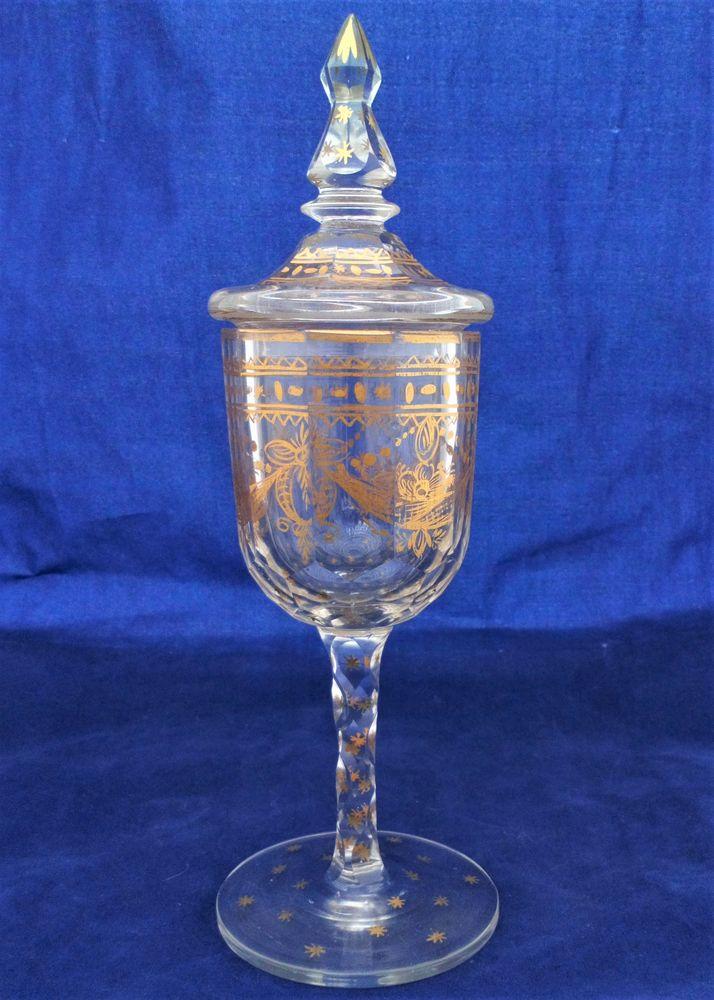 How to keep foreign bodies out of your wine , use this beautiful decagonal (ten sided) faceted and gilded lidded antique Bohemian wine goblet dating from around 1880. This very collectable and decorative example of antique Bohemian glassware is a hand blown small goblet with a decorative cover or lid. Covered drinking glasses like this are referred to as Deckelpokal. It stands 8 1/4 inches high and has a 2 5/8ths inches foot hand painted with gilt stars. The stars continue up the cut, facted stem and on the hexagonal cuts at the lower part of the bowl.
The long panel cuts are beautifully hand gilded with a Rococo type design featuring swags and flowers below a deep border with dots, stars and triangles. The lid or cover has eight panel cuts below a knife edge knopped faceted finial. This too is gilded with a border to match the one on the glass and more stars above it.
Antique Bohemian Glass Lidded Small Goblet Gilded Decoration Faceted Stem c 1880