If you are Squeamish don't look now! - Indian Sporting Series by Spode Death of a Bear Plate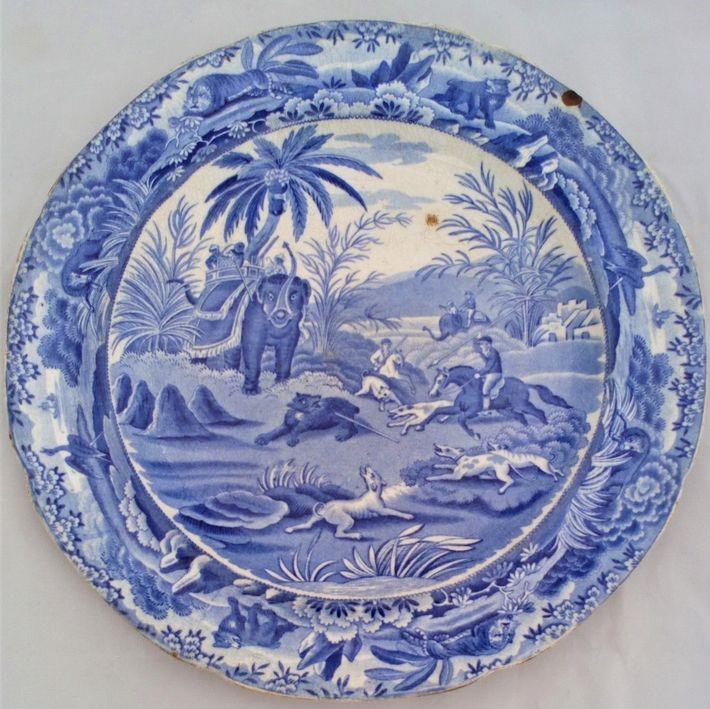 A plate definitely not for the squeamish or animal lovers, a sad scene from the Spode Indian Sporting Series. It is still a highly sought after antique Spode blue and white transfer printed plate showing the pattern, Death of The Bear and with the impressed number 28 on the reverse probably for the year 1828.
This relatively rare pattern shows a hunting scene in India with Indian and British hunters on elephants and horses hunting down an unfortunate bear which is shown with a spear in its side. The border features bears, tigers, boars and cranes or herons.
The pattern was one of the Indian Sporting Series produced by the renowned factory of Spode and the plate is clearly marked on the back with the printed title, Death of The Bear. The plate is 10 inches in diameter and weighs 434g.
Spode operated from their factory in Stoke on Trent, Staffordshire, England from 1770 until 1833. This pattern is also documented in "Collecting Blue and White Pottery" by Gillian Neale.
Spode Death of the Bear Pattern Blue and White Pearlware Plate