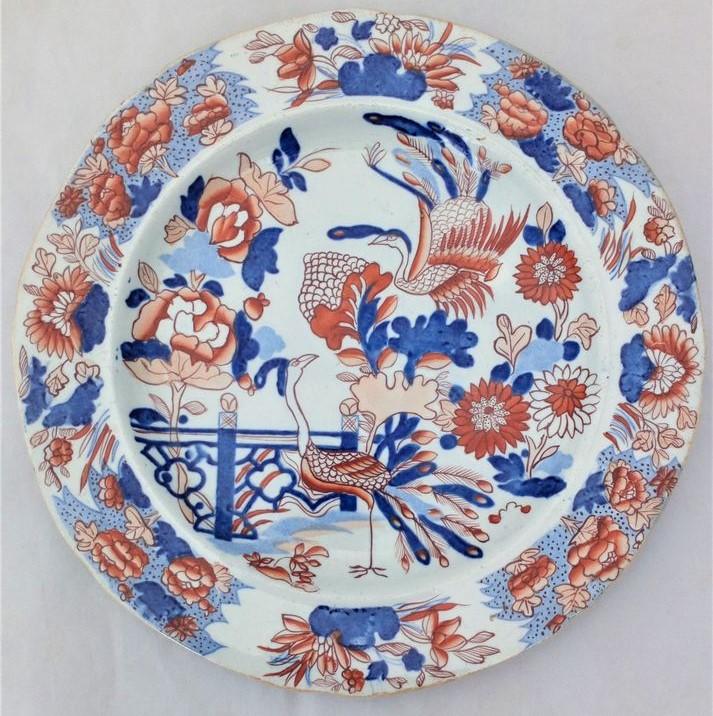 Added to our latest stock is this very attractive antique ironstone lobed round shaped dinner plate by the renowned English maker, Mason's and with their early impressed line mark: "MASON'S PATENT IRONSTONE CHINA" on the base. This plate dates to 1813 - 1820 during the Regency period in the UK. ( When George III was declared unfit to rule, so his son and heir the Prince of Wales, became Prince Regent, after his father's death he became George IV.)
The plate features a most attractive bold Chinoiserie inspired pattern, with a printed outline in under-glaze blue, referred to as Golden Peacock. It is a pattern that is less commonly seen. It features two of these exotic birds in the central image. It has also been referred to as Peacock and also Peacock Japan by some collectors and dealers.
The pattern is richly hand painted and coloured in over-glaze enamels in Imari Japan colours of cobalt blue, light blue and burnt orange all in varying shades, over a blue transfer printed under-glaze outline. The plate has an ochre coloured enamelled rim
It was made by the firm of the brothers George Miles and Charles James Mason, of Lane Delph, Staffordshire, England, who traded as G.M and C.J Mason.
Antique Mason's Patent Ironstone Plate Golden Peacocks Pattern Transfer c 1815