Nanking Cargo Chinese Porcelain Batavian Tea Bowls and Saucers Qianlong Qing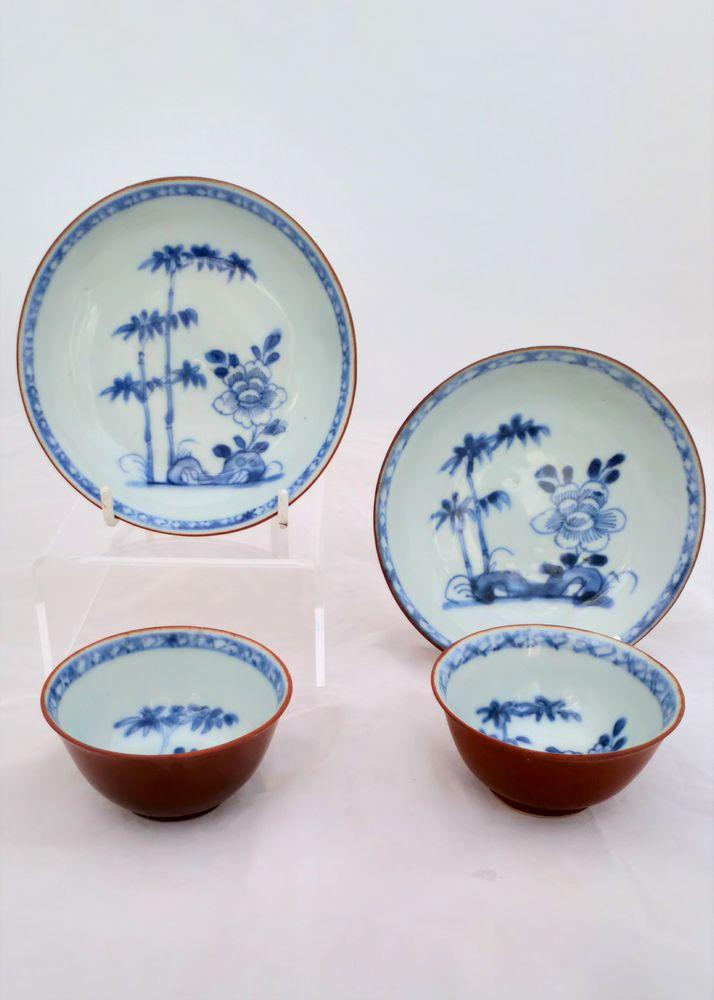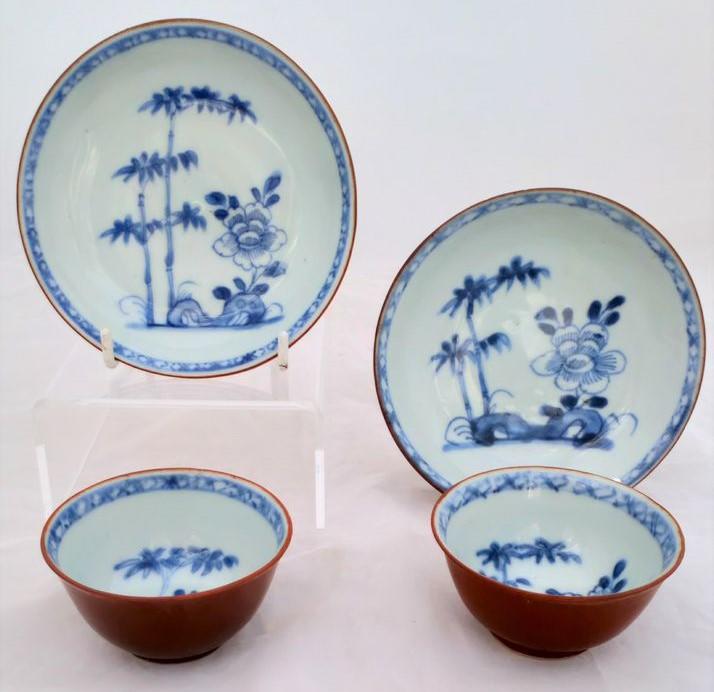 Two Nanking Cargo Batavian antique Chinese hand painted blue and white export porcelain tea bowls and saucers. Available individually. They are both decorated on the inside with underglaze blue hand painted rocks, peony flowers and bamboo. The exteriors with brown Batavian glaze or cafe au lait glaze. Both items have the Christie's of Amsterdam auction lot number label to the base, in this case 5246.
The Nanking Cargo. is the name given to the sale of the salvaged material from the Dutch East India Company ship Geldermalsen, which struck a reef on her return journey to the Netherlands and sank in the South China Sea, on Monday January 3, 1752. Of the crew 32 survived and 80 went down with the ship and her cargo of tea, raw silk, textiles, dried wares, groceries, lacquer and porcelain.
The cargo of Chinese porcelain was originally potted in Jingdezhen, Jiangzi province then shipped to Nanking for delivery to the Geldermalsen for final transportation to the Netherlands. The cargo was recovered by Captain Michael Hatcher and his team in 1985 and sold by Christie's Amsterdam on 28 April - 2 May 1985 as 'The Nanking Cargo. Chinese Export Porcelain and Gold' two hundred and thirty five years later.
These items on offer here are also accompanied by paper copies with details given at the original auction and the retail certificate from 1986. They date from the reign of the Emperor Qianlong 乾隆 (1736-95) the Qing dynasty 清代 during the King George II period in England.
They are plain smooth bodied with the same pattern on each and a cross hatched border pattern on the inner rims of each.
Nanking Cargo Chinese Porcelain Batavian Tea Bowl Saucer Qianlong Qing 5246