No Aeroplane Involved - Flight to Egypt, Joseph, Mary Jesus Staffordshire Flatback Spill-holder c 1860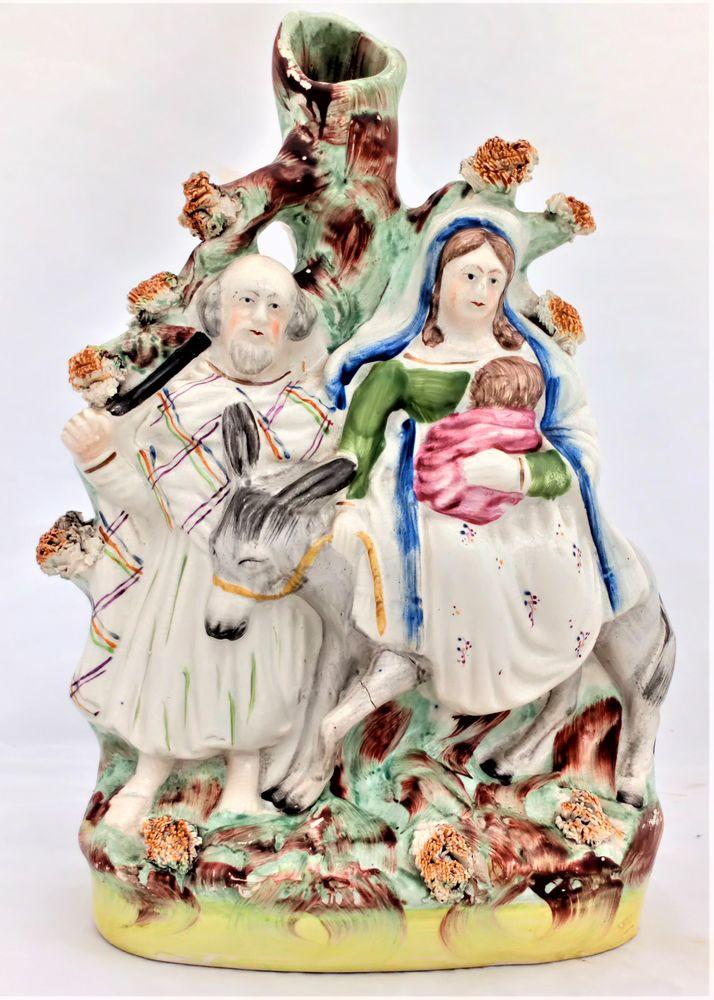 A mid 19th century English Staffordshire pottery flat-back spill vase or spill holder enameled and gilded modelled in "The Flight to Egypt" shape circa 1860.
Staffordshire spill vase with a religious theme which features Joseph leading a donkey carrying Mary and the baby Jesus, standing in front of a tree all on an oblong base. It is a poly-chrome enamel multi-coloured version with a small amount of dull gilt embellishment and sieved clay "bocage" representing leaves and grasses. This is a flatback figurine, decorated primarily to the front.
This lovely antique Staffordshire figure represents the flight to Egypt, it is based on a similar pre-Victorian figure. Book reference,'Victorian Staffordshire Figures 1835-1875′ Book 2, by A.& N. Harding, page 34, figure 1743.
The figurine is hand coloured with orange, green, purple, blue, black and yellow enamels as well as sieved bocage.
Staffordshire Flatback Spill-holder Flight to Egypt Joseph, Mary Jesus c 1860