Superb Serpentine Sculpture Grand Tour Statuary for Sale!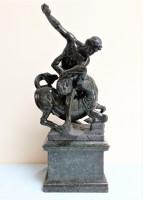 If you think that you are having a bad day, it is not as bad as the one Nessus is having!
An exquisitely carved museum quality Victorian Grand Tour serpentine group sculpture after Jean de Bologne (1529-1608) of Hercules (Heracles) slaying Nessus the Centaur. This important serpentine group is based on the Statue of Hercules and the Centaur Nessus completed in 1599 by Giambologna and now located in the Loggia dei Lanzi in Piazza della Signoria in Florence, Italy. This reduced size version was made in Italy in the late 19th century during the reign of Queen Victoria most probably as a Grand Tour memento.