Tremendous Royal Worcester Porcelain Pair Figurines Eastern Water Carriers 594 Antique 1917
Royal Worcester Porcelain Pair Figurines Eastern Water Carriers 594 Antique 1917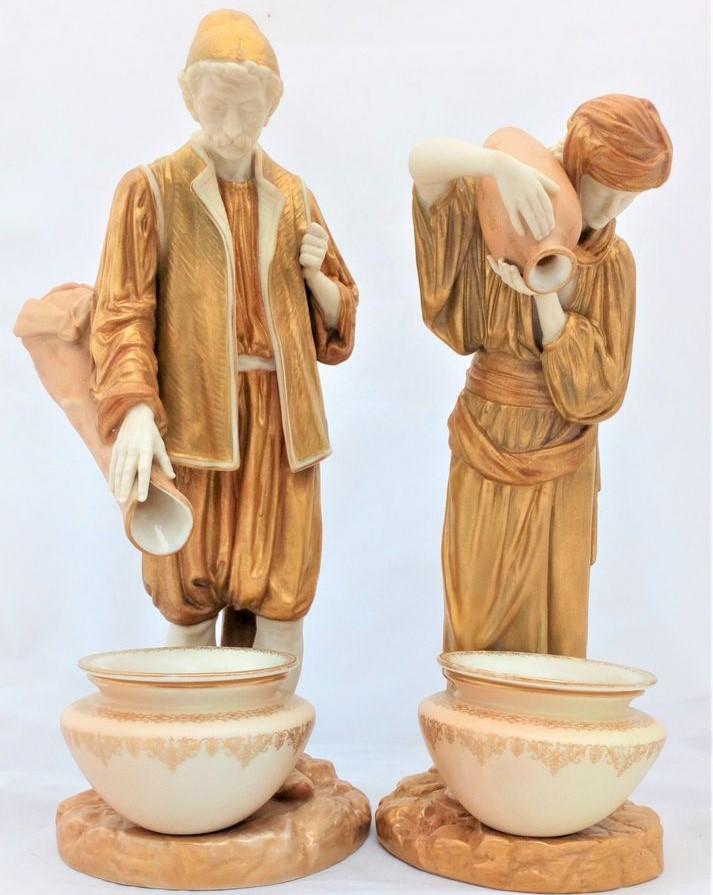 A dining or side table will look fantastic with this beautiful pair of Royal Worcester porcelain blush ivory and gilded figurines sitting on it. The figurines of Eastern water carriers, both carrying different water jars that they are pouring into the lined bowls at their feet., probably for posies if flowers. This is a very attractive, highly decorative and collectable pair of Royal Worcester figurines - model number 594 and dated with the star and dot date code around the factory mark that relates to the early 20th century circa 1917.
The figures are of a Middle Eastern man and woman, although they have some European features - dressed in gilded clothes, possibly Turkic style. He has a tasseled hat or shashia (chèchia ) a soft floppy version similar to a fez, a long sleeveless waistcoat and knee length baggy trouser (şalvar or dimje). She wears a turban type head dress or shawl around her head and shoulders and a calf length dress. The figures have the very pleasing, muted colour palette that contrasts with the richly gilded clothing.
Both figurines are fully marked under the bases with the puce Royal Worcester mark and the James Hadley design number 594, she has an impressed number 80 and him a number 1. Royal Worcester Porcelain has been made in the city of Worcester, Worcestershire, England in the United Kingdom since 1751.