We won't Carp on about how beautiful this antique Fukagawa porcelain plate is!
This is a beautiful Japanese Meiji period porcelain plate by the Fukagawa Seiji company in hand painted porcelain with a scalloped and ribbed rim dating from Meiji period (1868-1912) circa 1900.
The main scene is painted as a school of carp investigating a floating flower blossom which has fallen into their pool from a flowering branch above. There is an impression of movement in the water, as there is a swirl or eddy painted in shades of blue in the focal point of the scene. There are some floating lily pads painted to the right to balance the image.
The rim has a colourful outer border of diamond shapes in underglaze blue with polychrome enamel decoration in green red and gold, with inset flowers and and gilded red circles.
The underside of the rim is decorated with under glaze blue prunus branches with polychrome enamel and gilded flowers. The foot has three concentric bands of underglaze blue.The base of the plate has a nine character kanji mark below the Mountain and stream trademark of the Fukagawa Seiji company.
Eizaemon Fukagawa started the Fukagawa company in 1875 he used the flowering orchid mark as his trademark (Koransha : The Scented Orchid Company) and after his death in 1889, his oldest son, Yotaro took over the company. In 1894 his 2nd son Chuji Fukagawa started the Fukagawa Porcelain Company (Seiji) using the mount Fuji and stream mark. Seiji means lawful and just in Japanese perhaps indicating some rivalry with his brother?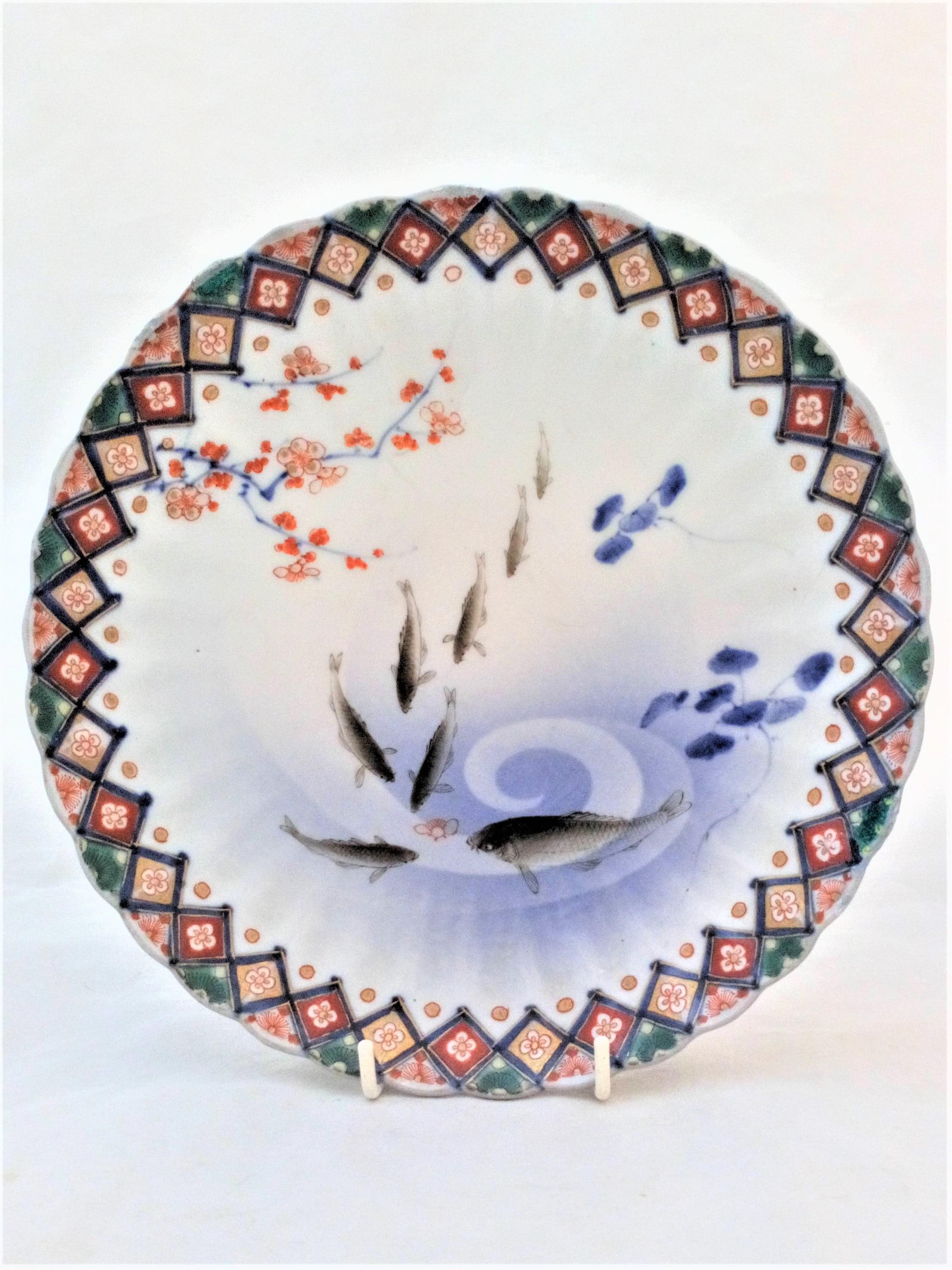 JAPANESE FUKAGAWA PORCELAIN PLATE PAINTED CARP 深川製 ANTIQUE MEIJI 1900