Yorkshire Pottery Imperial Quart Ale Jug - Hepworth and Heald of Kilnhurst Pottery near Swinton South Yorkshire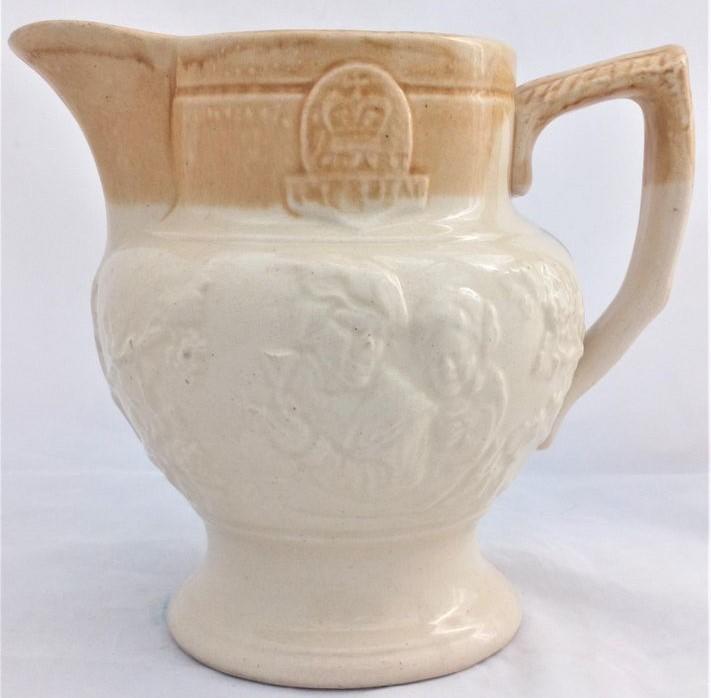 A jug for the thirsty or sociable drinker! This quart sized (two pints) relief moulded ale, beer, cider or wine jug made by Hepworth and Heald of Kilnhurst Pottery near Swinton, South Yorkshire, England circa 1905. The moulding on the jug on one side shows a man and woman each with a wine glass in hand and him also holding a large jug. The other side shows a man apparently counting money, possibly depicting the landlord. The moulding in between is of grape vines laden with grapes. The top of each side of the jug below the rim has a medallion with a crown with the words quart imperial below.
The jug, which is footed and in an inverted baluster shape, has cream coloured earthenware body with a golden treacle glaze (sometimes referred to as a Rockingham glaze) to the top rim. It has an etched metrology stamp to the front, which is difficult to read but, when held at an angle to the light it shows that it was approved as a Quart measure by the weights and measures department of 122 ? (Dumfries, county) during the reign of Edward VII (1901-1910). This mark indicates that the jug was made to be used in a public house, inn or hotel for the use in the sale of alcoholic beverages.
Kilnhurst Quart Ale Beer Cider Jug Pitcher Hepworth Heald Edwardian